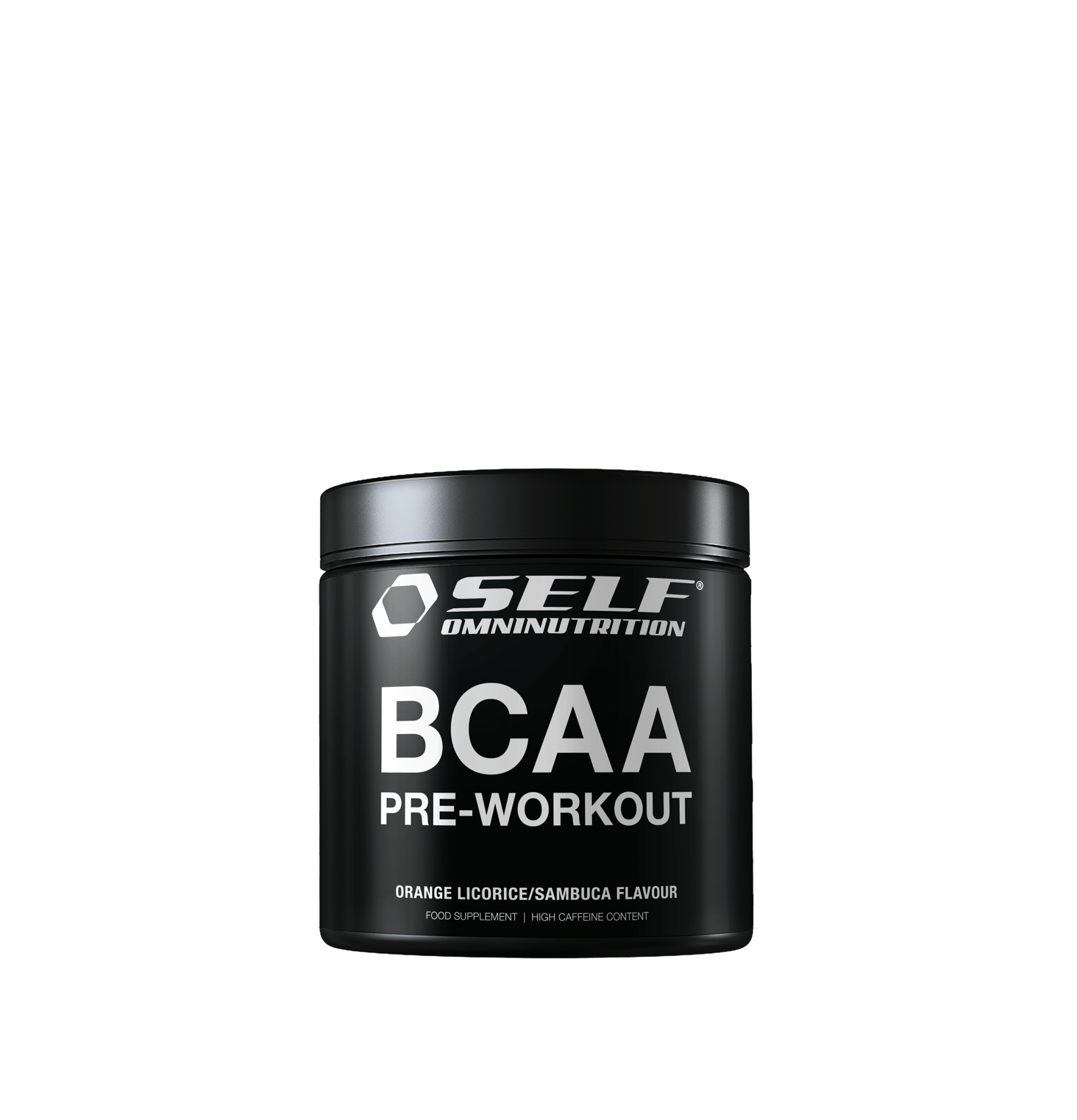 out of stock
Self Omninutrition - Bcaa Pre-Workout - 300gms
Increases the capacity of resistance, agility and concentration. Powerful Pre-Workout loaded with Caffeine, Beta Alanine, Arginine, Bcaa, Betaine.
Free deliveries to the mainland Iberian Peninsula
100% secure shopping
Returns up to 30 days
Payment on delivery available
---
This article is currently sold out.
Enter your email and we will notify you as soon as it is available.
---
FOOD SUPPLEMENT. p>
CONTAINS SWEETENER. HIGH CAFFEINE CONTENT. NOT RECOMMENDED FOR CHILDREN, PREGNANT AND INFANT (200 mg / dose). p>
Recommended Daily Dose: 17 g (approx. 1 scoop) / 300 ml of water in a shaker, shaking with each use to distribute the ingredient. p>
Ingredients - Orange Licorice / Sambuca: Piperine, beta-alanine, l-arginine, l-leucine, l-lysine, betaine, l-valine, l-isoleucine, acidity regulator (E296), aroma, caffeine (1.2% ), sweetener (E955, E950), dye (E101), black pepper extract (piper nigrum fructus). May contain traces of EGG, SOYA and MILK. p>
Ingredients - Fruit Punch: Piperine, beta-alanine, l-arginine, l-leucine, l-lysine, betaine, l-valine, l-isoleucine, acidity regulator (E296), aroma, caffeine (1.2%), sweetener (E955, E950), dye (E162), black pepper extract (piper nigrum fructus). May contain traces of EGG, SOYA and MILK. p>
Warnings: The product is aimed exclusively at adults, and should be used with a varied, balanced diet and a healthy lifestyle. Do not exceed recommended serving. Do not use during breastfeeding, pregnancy, or by children, in case of treatment with hypolipidemic and hypoglycemic drugs, liver and kidney diseases, or for long periods without medical consultation. p>
Batch and consume preferably before: Consult packaging p>
Net Weight: 300 g p>
Origin: Sweden p>
Conservation: Cool and dry place in closed packaging p>
Nutritional Information per 100 g: Energy Value: 0 kcal / 0 kJ | Lipids: 0 g (of which saturated: 0 g) | Carbohydrates: 0 g (of which sugars: 0 g) | Proteins: 0 g | Salt: 0.2 g. p>
We inform you that the food products for sale in this online store may contain substances or products that cause allergies or intolerances. If you need, ask for additional help or clarification in our customer support. p>
An innovative PWO product that contains branched chain amino acids (BCAA), beta-alanine, arginine, lysine, betaine and piperine, and should be ingested before training. BCAA is responsible for about 35% of the essential amino acids that occur in muscle proteins. BCAA is vital for protein synthesis, has anti-catabolic effect, muscle recovery after intensive training and muscle strength. Beta-alanine increases the production of carnosine, which neutralizes the accumulation of lactic acid, which slows down muscle fatigue and therefore allows for more intensive training. Arginine is involved in the synthesis of muscle proteins (promotes muscle growth) and improves blood flow, increasing the production of nitric oxide (NO); combined with lysine, it stimulates the production of growth hormones, increases calcium absorption, optimizes nitrogen stocks in the body and improves recovery time. Betaine has been shown to be very effective in increasing NO (nitric oxide), which, in turn, improves performance capacity and fat-free muscle mass. Betaine reduces homocytin thiolactone levels, which can compromise protein synthesis. Piperine is an alkaloid that occurs in black pepper, which speeds up the process of digesting all nutrients, such as amino acids and foods, can block the generation of new fat cells and reduce the level of fat in the blood. p>
Benefits p>
Increases strength
Increases NO (nitric oxide) levels
Increases muscle mass
Neutralizes lactic acid buildup
Improves muscle energy
Reduces pain
| | |
| --- | --- |
| NUTRITIONAL VALUE | PER 100 GR |
| Energy Value | 0 kcal/0 kJ |
| Lipid | 0 g |
| of which saturated | 0 g |
| Carbon Hydrates | 0 g |
| of which sugars | 0 g |
| Proteins | 0 g |
| Salt | 0.2 g |
p>
Aditional Information
Write a Review
You must Login to review this product
Login