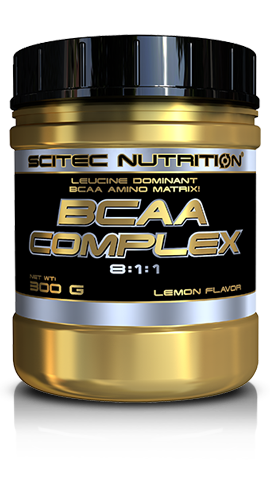 BCAA COMPLEX 300GR LEMON
BCAA will help you achieve your goals faster and more effectively. This supplement and amino acids are the main constituents of proteins increasing your energy levels.
Delivery in 24h
100% secure shopping
Returns up to 30 days
Payment on delivery available
---
Food Supplement
BCAA Complex
The essential branched-chain amino acids (the BCAAs) are an important group of essential amino acids made up of leucine, isoleucine and valine. Branched-chain essential amino acids are among the nine essential amino acids for humans, as our bodies cannot manufacture them. Your only source is our daily foods or food supplements. On the other hand, they constitute 35% of the essential amino acids in muscle proteins. Normal amino acid products typically contain a 2:1:1 ratio of leucine, isoleucine and valine, however, the new market standard is; a dominant ratio of leucine, with an 8:1:1 ratio to the remaining essential branched-chain amino acids. With this proportion it will not be; It is necessary to increase the dose of the total product to obtain high levels of leucine. However, the BCAA Complex formula is not just about a new proportion of essential branched-chain amino acids.

Glutamine is; It's a very popular ingredient among athletes, so it's also been included to boost glutamine intake levels. To increase the complexity of the formula, the amino acid L-alanine was also added, which is only; lags behind leucine in terms of the rate of occurrence in proteins and that it is; particularly concentrated on meat. Finally, the BCAA Complex is; a source of vitamin B6 that contributes to*:
Benefits: p>
Regulate hormonal activity
Normal energy metabolism
Decrease tiredness and fatigue
The normal functioning of the immune system and the nervous system
the normal metabolism of proteins and glycogen
the normal formation of red blood cells.

*Nutritional and health declarations authorized by the European Food Safety Authority (EFSA) .
ul>

How to Use: Mix one dose (10 gr) per day, in at least 300 ml of á water. Allow the drink to stand for some time to increase the dissolution of the ingredients. Consume near and/or during your training or competitions. Extra portions can be taken at any time when amino acids are needed, eg every 3 hours if Leucine is not needed; obtained through your food.

Ingredients: L-Leucine, Dextrose, Acidity Regulator (Anhydrous Citric Acid), Aroma (Lemon), L-Isoleucine , L-Valine, Sweeteners (Acesulfame K, Sucralose), L-Alanine, L-Glutamine, Color (Riboflavin), Pyridoxine HCl


Allergic information: Manufactured in facilities where they also process milk, eggs, gluten , soy, peanuts, nuts, celery, fish and shellfish ingredients.

Flavour: Lemon

Net weight: 300 gr - 30 doses

Expiration batch: Consult packaging

We inform you that the food products for sale in this online store may contain substances or products that cause allergies or intolerances. If you need it, ask for help or additional clarifications from our customer support.



NUTRITIONAL INFORMATION p>
1 serving: 10 g (1 dispenser)
Dosing per container: 30
10 g
VRN%*
10 g
VRN%*
Vitamin B6
1.4 mg
100%
L-Valine
500 mg
L-Leucine
4000 mg
L-Alanine
125 mg
L-Isoleucine
500 mg
L-Glutamine
125 mg
*VRN%: Nutrient Reference Value
div>
Aditional Information
Write a Review
You must Login to review this product
Login
Delivery in 24h
Delivered the next business day if made before 4pm
Returns up to 30 days
We accept returns up to 30 days from the delivery date
24/7 Support
We are available to answer all your questions