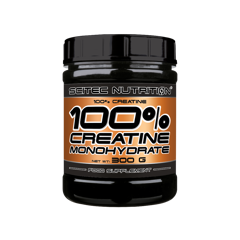 out of stock
CREATINE MONOHYDRATE 300GR
Creatine is one of the most used supplements by those who train. Several studies have proven results from this supplement, you will be able to increase and increase the intensity of your training
Delivery in 24h
100% secure shopping
Returns up to 30 days
Payment on delivery available
---
This article is currently sold out.
Enter your email and we will notify you as soon as it is available.
---
Food Supplement p>
Creatine is; a nitrogenous organic acid produced by vertebrates. About 95% of the body's creatine is é found in skeletal muscle. It helps provide energy to all cells, especially muscle cells, to increase the formation of adenosine triphosphate (ATP) which acts as a cellular energy reserve also for contractions;

100% CREATINE MONOHYDRATE contains the most advanced research form of creatine. It has been scientifically demonstrated that a daily intake of 3 g of creatine improves physical performance in successive sets of brief high-intensity exercise such as weight training and interval cardiovascular training*.

* These statements have been scientifically proven by the European Food Safety Authority (EFSA) and authorized by the European Commission (EC).
p>
Use Mode: The beneficial effect is; obtained with a daily dose of at least 3 grams of Creatine! Divide your body weight in kg by 3. This é the total amount of creatine in grams you should take daily in " charging phase "(first week of use). After this period, for maintenance, do not take more than half of this amount. Use on an empty stomach in conjunction with simple carbohydrates, especially after training. Use 400 ml of liquid for every 5 grams of creatine to obtain an adequate solution. Do not take more than 10 grams in one session, distribute the daily dose!
p>
Allergic information: Manufactured in facilities where they also process milk, eggs, gluten, soy, peanuts, nuts, fish and shellfish ingredients!
p>
Warnings : As with all exercise and nutrition programs, consult your doctor first. Do not use as a substitute for a varied diet. This product is not intended to diagnose, treat, cure or prevent any disease, nor is it intended to diagnose, treat, cure or prevent any disease. a meal replacement product, use only as a food supplement. Do not exceed the recommended daily dose. Keep out of children! Use this product in conjunction with food and as part of a healthy, balanced diet, not as a substitute for it.
p>
Net weight : 300 gr – 60 dose p>
Ingredients: Creatine Monohydrate
Conservation: Cool and dry place in closed packaging
Expiration batch: consult packaging p>
We inform you that the food products for sale in this online store may contain substances or products that cause allergies or intolerances. If you need it, ask for help or additional clarifications from our customer support.
NUTRITIONAL INFORMATION p>
1 dose: 5 g (¾ dispenser)
Amount per dose
Creatine Monohydrate
5000 mg
of which creatine
4420 mg
div>
Aditional Information
Write a Review
You must Login to review this product
Login
Delivery in 24h
Delivered the next business day if made before 4pm
Returns up to 30 days
We accept returns up to 30 days from the delivery date
24/7 Support
We are available to answer all your questions