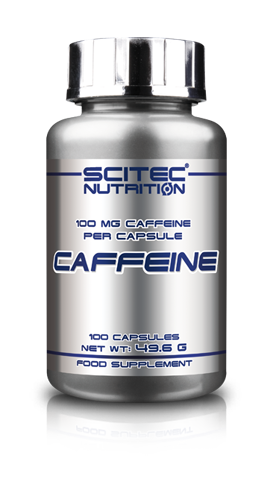 out of stock
Caffeine 100 Capsules
100 mg of caffeine per capsule
Delivery in 24h
100% secure shopping
Returns up to 30 days
Payment on delivery available
---
This article is currently sold out.
Enter your email and we will notify you as soon as it is available.
---
Food Supplement p>
Caffeine p>
Coffee contains hundreds of phytochemicals, some of which can cancel out the positive effects of caffeine. However, with pure caffeine, the desired doses can be taken without possible interference. These caffeine capsules allow for convenient, accurate and high-dose use. p>
Warnings: Contains caffeine (100mg per serving). Not recommended for children, pregnant or nursing women. Use this product in combination with food, as part of a healthy, balanced diet, not as a substitute. Keep out of the reach of children. Do not exceed the recommended daily dosage! p>
Ingredients: Dextrose, Caffeine Anhydrous, Bovine Gelatin, Color (Titanium Dioxide) p>
Allergic Information: Manufactured in a facility that processes milk, egg, gluten, soy, peanut, tree nuts, fish and shellfish ingredients. p>
How to Use: Take 1 serving (1 capsule) per day, 30-60 minutes before an important physical or mental activity. p>
Sizes: 100 capsules - 100 servings p>
Expiration batch: Consult empaque p>
We inform you that the food products for sale in this online store may contain substances or products that cause allergies or intolerances. If you need it, ask for help or additional clarifications from our customer support.
p>
p>
Dosing Size: 1 Capsule
Doses Per Container: 100
Coffee
100 mg
Write a Review
You must Login to review this product
Login
Delivery in 24h
Delivered the next business day if made before 4pm
Returns up to 30 days
We accept returns up to 30 days from the delivery date
24/7 Support
We are available to answer all your questions