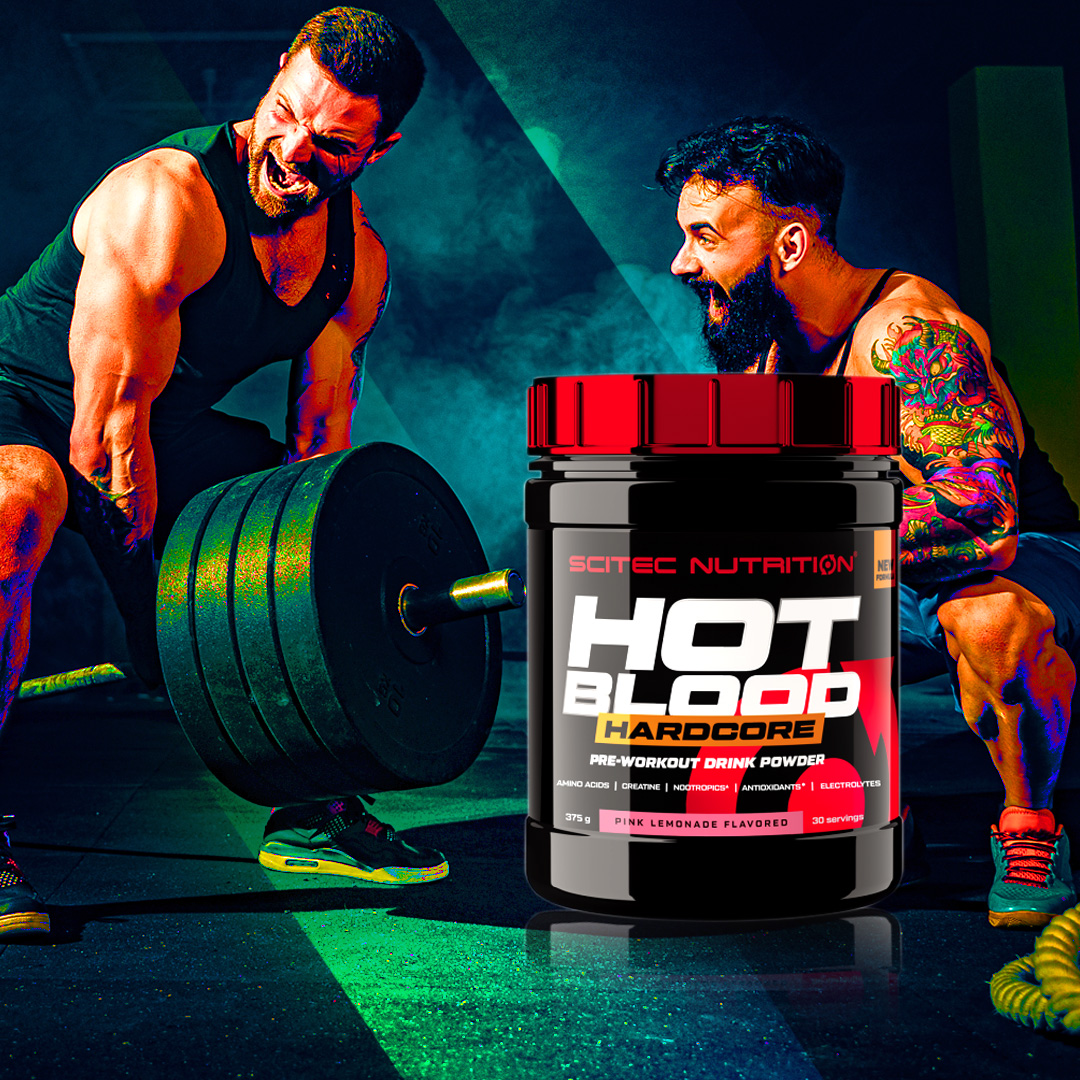 HOT BLOOD HARDCORE 375GR
This product improves your training routines, helps reduce fatigue and tiredness, increases your body's stamina and improves your overall performance so you get the results you want.
Delivery in 24h
100% secure shopping
Returns up to 30 days
---
5 CREATINES - L-CARNITINES - AMINO ACIDS - VITAMINS - MAGNESIUM CITRULLLINE MALATE AND AAKG - CAFFEINE AND BETA-ALANINE - WITH BIOPERINE® p>
When we train or perform a physical activity and it reaches a certain intensity, our body and blood "warm" so we can work more effectively. The formula of our HOT BLOOD 3.0 pre-workout complex has been carefully designed to help the body during physical activity, particularly during high intensity training. Our matrix, with 5 different types of creatine, contains 4500 milligrams and provides, among others, the most advanced form of creatine in research. This dose of creatine has been scientifically shown to improve physical performance in successive sets of brief, high-intensity exercise*.
Ingredients: p>
Orange: Maltodextrin, Creatine Monohydrate, L-Arginine HCl, Acidity Regulator (Acid Citric Acid Anhydrous), alpha-Ketoglutarate Arginine 2:1, Dextrose, L-Tyrosine, Aroma (Orange Juice), Beta-Alanine, Caffeine Anhydrous, Acetyl-L-Carnitine HCl, Anti-caking Agents (Tricalcium Phosphate, Colloidal Silica Dioxide), Magnesium Carbonate, Camellia Sinensis Leaf Extract 8:1, Colorant (paparric extract), DL-Malate L-Citrulline 1:1, Taurine, Sweeteners ( Acesulfame-K, Sucralose), Creatine Citrate, Creatine Pyruvate, Kre-Alkalyn® (Buffered Creatine Monohydrate), L-Carnitine L-Tartrate, L-Ornithine HCl, Microntec Micronized Creatine Monohydrate, Sodium Hydrogencarbonate, Nicotinamide, Vitis Vinifera 20:1 , Alpha Lipoic Acid, Piper Fruit Extract 50:1, D-Biotin, Pteroylmonoglutamic Acid.

Many of our selected ingredients contribute to one or more of the following effects physiological benefits: p>
Normal functioning of muscles
Normal functioning of the nervous system: neurotransmission and muscle contraction including cardiac muscle
Reduction of tiredness and fatigue
Normal Energy Metabolism
Normal amino acid synthesis / normal protein synthesis
Normal psychological function
Electrolytic balance
ul>


*These statements have been scientifically substantiated by the European Authority for Food Security (EFSA) and authorized by the European Commission (EC).
&nbsp ;

How to use: Mix one dose (20 gr) in 400 ml of cold water. As this mixture becomes slightly carbonated, when shaking open the bottle cap every 5 seconds to avoid pressure build-up! Use 30-45 minutes before training, preferably on an empty stomach. People sensitive to stimulants should first assess their tolerance by taking half the doses (contains 300 mg Caffeine per serving)! p>

Allergic information: Manufactured in facilities where milk, eggs, gluten are also processed. , soy, peanuts, nuts, fish and shellfish ingredients.
p>

Warnings: As with all nutritional and exercise programs, you should consult your doctor first. Use this product in conjunction with food, as part of a healthy, balanced diet and not as a substitute for a varied diet. Donot exceed the recommended daily dose. Keep out of reach of children!
p>

Flavors: Orange p>

Net weight: 375gr - 30 doses p>

Expiration batch: consult packaging p>

We inform you that the food products for sale in this online store may contain substances or products that cause allergies or intolerances. If you need it, ask for help or additional clarifications from our customer support.

p>
NUTRITIONAL INFORMATION p>
1 dose: 20 ??g (1 ½ dispenser)
Guaraná, Blood orange, Passion fruit orange; , Pink lemonada, Tropical punch, Orange juice, Guaraná blue
Amount per serving
VRN% *
Amount per serving
VRN% *
Vitamin B3 (Niacian)
35 mg NE
219%
Magnesium
56 mg
15%
Biotin
7.5 μg
15%
Coffee (total amount)
300 mg
Folic Acid
30 μg
15%
HOT BLOOD registered parent
Multi-Creatine Matrix
4500 mg
Multi-complex "Hot Blood"
7138 mg
Of which Creatine 3929 mg
Creatine Monohydrate, Kre-Alkalyn® (Buffered Creatine Monohydrate), Creatine Pyruvate, Creatine Citrate, MicronTec Micronized Creatine Monohydrate
Glucose Polymer (4600 mg), L-Arginine alpha-ketoglutarate (1200 mg), beta-Alanine (500 mg), Caffeine (283 mg), Acetyl L-Carnitine (250 mg), L-Citrulline DL-Malate (200 mg), L-Carnitine L-Tartrate (50 mg), Sodium Hydrogen Carbonate (50 mg), Bioperine® (>95% Piperine) (5 mg).
Antioxidant Complex
230 mg
Amino Acid Matrix
4250 mg
Tea extract; green (>50% polyphenols) (200 mg), Grapeseed extract (95% proanthocyanidins) (20 mg), alpha-lipoic acid (10 mg).
L-Arginine HCl (3000 mg), L-Tyrosine (1000 mg), Taurine (200 mg), L-Ornithine HCl (50 mg)
Guaraná blue
Amount per serving
VRN% *
Amount per serving
VRN% *
Vitamin B3 (Niacian)
35 mg NE
219%
Magnesium
56 mg
15%
Biotin
7.5 μg
15%
Coffee (total amount)
300 mg
Folic Acid
30 μg
15%
HOT BLOOD registered parent
Multi-Creatine Matrix
4500 mg
Multi-complex "Hot Blood"
7754mg
div>
Of which Creatine 3929 mg
Creatine Monohydrate, Kre-Alkalyn® (Buffered Creatine Monohydrate), Creatine Pyruvate, Creatine Citrate, MicronTec Micronized Creatine Monohydrate Glucose Polymer (5216 mg), L-Arginine Alpha-Ketoglutarate (1200 mg), Beta-Alanine (500 mg), Caffeine (283 mg), Acetyl L-Carnitine HCl (250 mg), L-Citrulline DL-Malate (200 mg), L-Carnitine L-Tartrate (50 mg), Sodium Hydrogencarbonate (50 mg), Bioperine® (>95% Piperine) (5 mg). p>
Antioxidant Complex230 mg Amino Acid Matrix4250 mg Tea extract; green (>50% polyphenols) (200 mg), grape seed extract (95% proanthocyanidins) (20 mg), alpha lipid (10 mg). L-Arginine HCl (3000 mg), L-Tyrosine (1000 mg), Taurine (200 mg), L-Ornithine HCl (50 mg) *VRN%: Nutrient Reference Value. p>
Aditional Information
Write a Review
You must Login to review this product
Login
Delivery in 24h
Delivered the next business day if made before 4pm
Returns up to 30 days
We accept returns up to 30 days from the delivery date
24/7 Support
We are available to answer all your questions