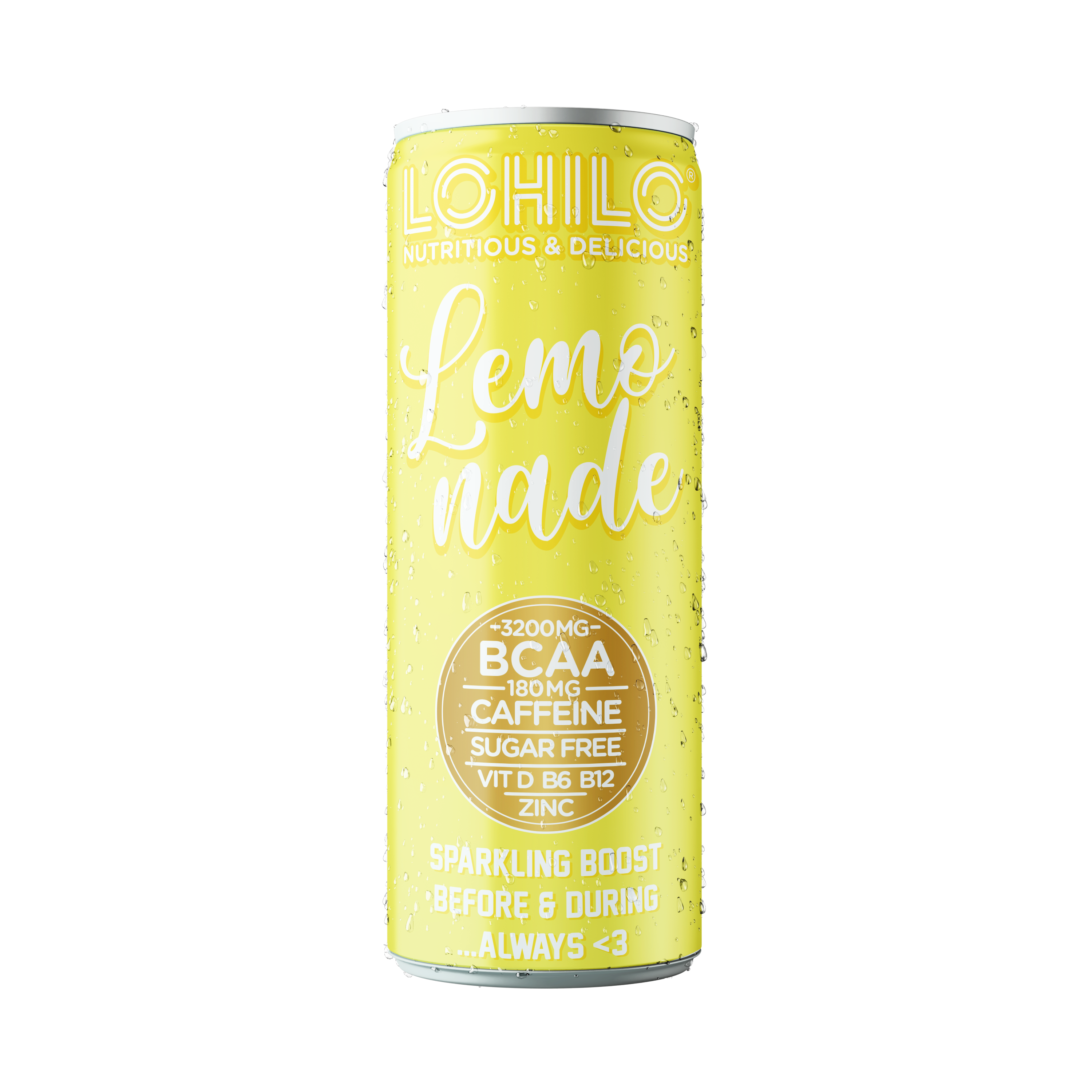 out of stock
LoHilo Lemonade 330ML
Lemon flavor. Energy drink and functional carbonated sugar-free and taurine-free. Contains caffeine, BCAA, vitamin D, B6, B12, zinc.
Create a FitBen account and receive an additional 10% off on your first purchase
Delivery in 24h
100% secure shopping
Returns up to 30 days
Payment on delivery available
---
This article is currently sold out.
Enter your email and we will notify you as soon as it is available.
---
Promotion valid from 2022-08-01 to 2022-08-31 unless out of stock
Lohilo Lemonade BCAA
The ideal pre- and post-workout drink. p>
For when you need that boost... Great to use in cocktails with or without alcohol. p>
Ingredients: Carbonated water, leucine isoleucine, valine, acidifier (E296), flavor, caffeine, zinc citrate, vitamin D-B6-B12-biotin, antioxidant (E331), sweetener (E955, E950), colorant (E160a), stabilizer (E459). p>
Conservation Method: Store in a cool and dry place (between 2 °C and 22 °C). After opening, consume within 24 hours.
Expiration batch: consultar packaging p>
We inform you that the food products for sale in this online store may contain substances or products that cause allergies or intolerances. If you need it, ask for help or additional clarifications from our customer support. p>
Per 100 ml
Per 330 ml
Energetic value
21 kj (5 kcal)
Energetic value
70 kj (17 kcal)
Proteins
0,97 g
Proteins
3,2 g
Salt
0,01 g
Salt
0,03 g
Lipids, saturated fatty acids, carbohydrates, sugars - negligible amount.
Vitamin D
0,75 ug 15%**
Vitamin D
2,5 ug 50%**
Vitamin B6
0,21 mg 14%**
Vitamin B6
0,7 mg 50%**
Vitamin B12
0,3 ug 12%**
Vitamin B12
1,0 ug 40%**
Biotin
7,5 ug 15%**
Biotin
25 ug 50%**
Zinc
1,5 mg 15%**
Zinc
5 mg 50%**

** Nutrient reference values (EU-NRV) p>

We inform you that the food products for sale in this online store may contain substances or products that cause allergies or intolerances. If you need, ask for additional help or clarification in our customer support. p>

L-leucine
485 mg
L-leucine
1600 mg
L-isoleucine
243 mg
L-isoleucine
800 mg
L-valine
243 mg
L-valine
800 mg
Aditional Information
Write a Review
You must Login to review this product
Login