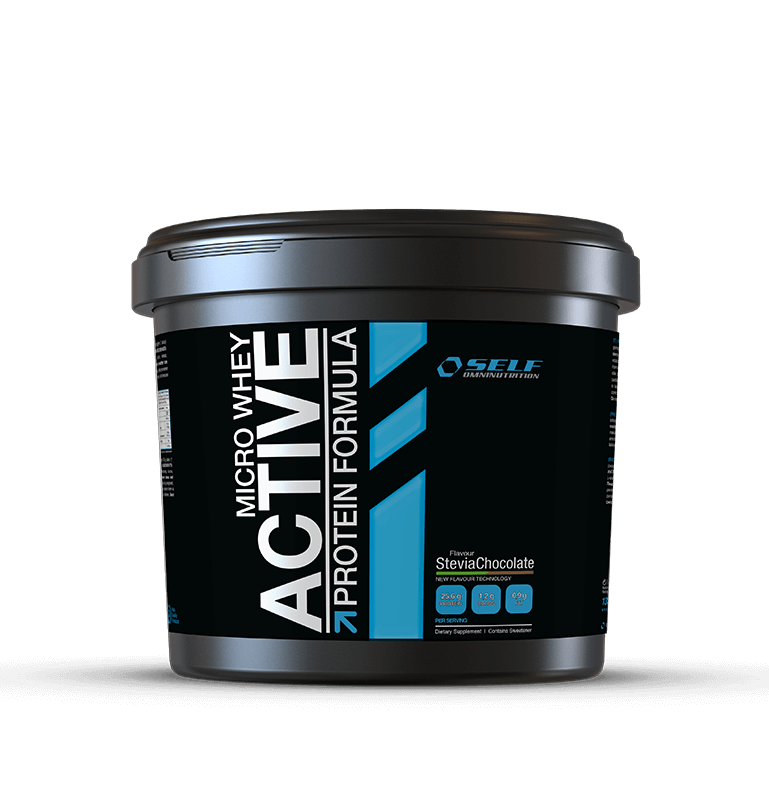 out of stock
Micro Whey Active Stevia - 1kg
Hurry! This offer is limited.
25g of Isolated Whey per serving, low in fat, carbohydrates and lactose, increases muscle growth, reduces body fat, promotes recovery. Gluten free, sweetened with Stevia
Offer of FitBen Beach Rackets on purchases of 50.00 € or more
Offer Granola + Vegetable Drink + Rice Cracker on purchases of 15.00 € or more
Free deliveries to the mainland Iberian Peninsula
100% secure shopping
Returns up to 30 days
Payment on delivery available
---
This article is currently sold out.
Enter your email and we will notify you as soon as it is available.
---
Promotion valid from 2021-08-01 to 2021-08-31 unless out of stock
FOOD SUPPLEMENT. p>
CONTAINS SWEETENER. p>
Recommended Daily Dose: 30 g (approx. 1 scoop) / 300 ml of water in a shaker. p>
Ingredients - Vanilla: Protein isolated from MILK serum, glycine, l-alanine, l-lysine, aroma, emulsifier (E322) (SUNFLOWER), sweetener (E960). May contain traces of EGG, OATS and SOY. p>
Ingredients - Strawberry: Protein isolated from MILK serum, glycine, l-alanine, l-lysine, aroma, emulsifier (E322) (SUNFLOWER), coloring (E162), sweetener (E960). It may contain traces of EGG, OATS and SOY. p>
Ingredients - Chocolate: Protein isolated from MILK whey, glycine, l-alanine, l-lysine, aroma, cocoa, emulsifier (E322) (SUNFLOWER), sweetener (E960). May contain traces of EGG, OATS and SOY. p>
Warnings: The product is aimed exclusively at adults, and should be used with a varied, balanced diet and a healthy lifestyle. Do not exceed recommended serving. Do not use during breastfeeding, pregnancy, or by children, or for long periods without medical consultation. The product must not be accessible to children under 3 years of age. p>
Batch and consume preferably before: Consult packaging p>
Net Weight: 1 kg p>
Origin: Sweden p>
Conservation: Cool and dry place in closed packaging p>
Nutritional Information per 100 g: Energy Value: 380 kcal / 1590 kJ | Lipids: 3 g (of which saturated: 2.5 g) | Carbohydrates: 4 g (of which sugars: 3.5 g) | Proteins: 84 g | Salt: 0.3 g p>
We inform that the food products for sale in this online store may contain substances or products that cause allergies or intolerances. If you need, ask for additional help or clarification in our customer support. p>
Benefits p>
25g Whey Isolate per serving
low in fat, carbohydrates and lactose
Increases muscle growth
Reduces body fat
Promotes recovery
Gluten free
Sweetened with stevia
| | |
| --- | --- |
| NUTRITIONAL VALUE | PER 100 GR |
| Energy Value | 380 kcal/1590 kJ |
| Lipid | 3g |
| of which saturated | 2.5g |
| Carbohydrates | 4g |
| of which sugars | 3.5g |
| Proteins | 84g |
| Salt | 0.3g |
p>
p>
Aditional Information
Write a Review
You must Login to review this product
Login