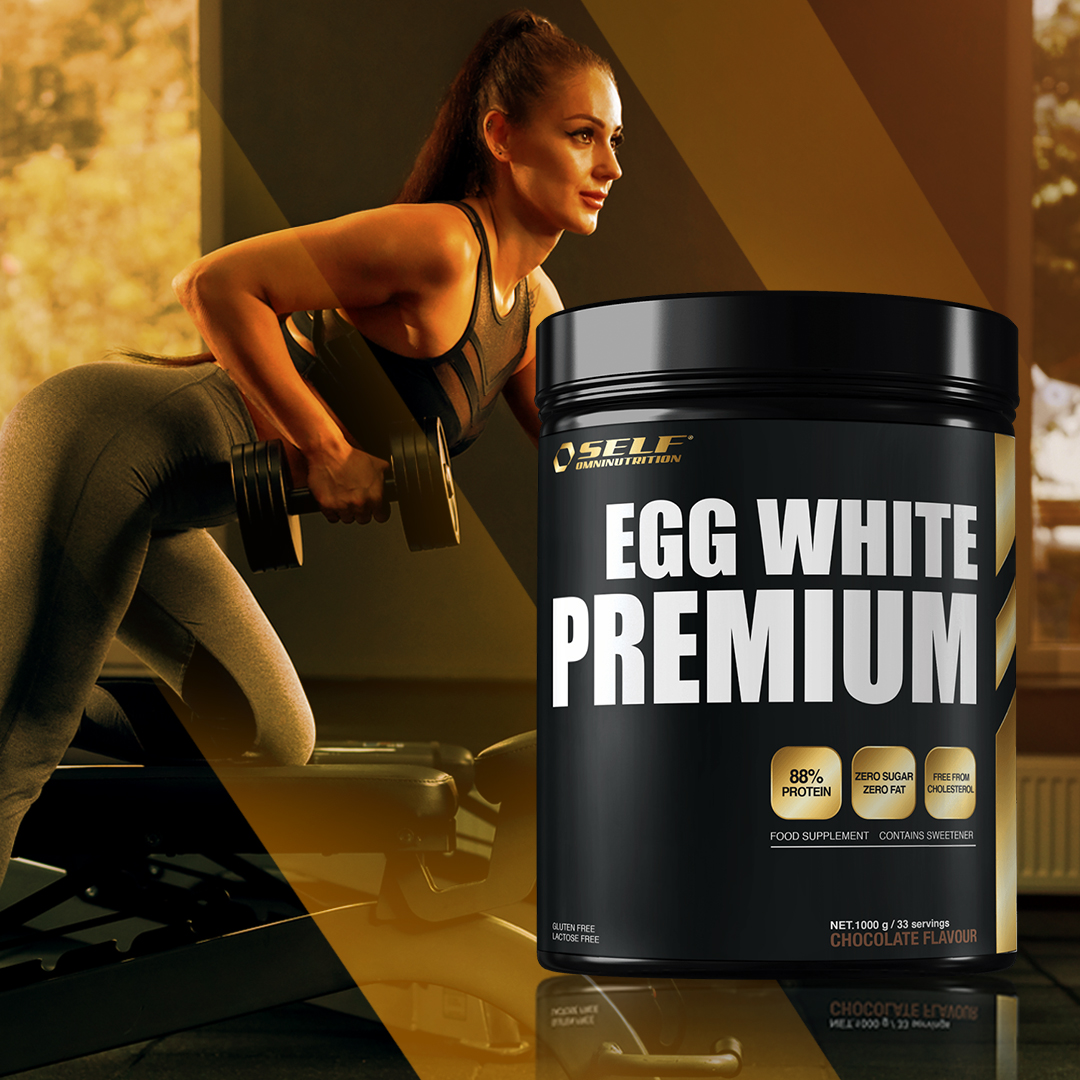 out of stock
Egg White Premium - 1kg
Egg protein is a high quality source of lactose-free protein. Supports lean muscle and promotes healthy body composition.
Create a FitBen account and receive an additional 10% off on your first purchase
Delivery in 24h
100% secure shopping
Returns up to 30 days
Payment on delivery available
---
This article is currently sold out.
Enter your email and we will notify you as soon as it is available.
---
Promotion valid from 2022-05-02 to 2022-07-31 unless out of stock
Food Supplement p>
Contains Sweetener p>
Egg pro contains 100% egg white protein. It has a high nutritional value (biological value) of BV100 and is suitable for everyone who needs high quality proteins to meet protein intake and muscle growth, due to the high concentration of the amino acid leucine, which is the most common amino acid used for stimulate protein synthesis. Especially suitable for people with intolerance to milk and soy. The protein breakdown rate is the same as whey protein. Some research has also shown that egg proteins increase satiety, which can be useful for people trying to lose weight. Interestingly, egg protein has anti-inflammatory properties, as it contains ovomucoid, a type of protein fraction that relieves muscle inflammation. p>
Warnings: The product is aimed exclusively at adults, and should be used with a varied, balanced diet and a healthy lifestyle. Do not exceed recommended serving. Do not use during breastfeeding, pregnancy, or by children, or for long periods without medical consultation. The product must not be accessible to children under 3 years of age. p>
Benefits p>
Promotes muscle growth
Increases protein synthesis
Fat and carbohydrate free
Anti-inflammatory properties
ul>

Nutritional Information per 100 gr: Energy Value: 352 kcal / 1475 kJ | Lipids: 0 gr (of which saturated: 0 gr) | Carbohydrates: 0 gr (of which sugars: 0 gr) | Proteins: 88 gr | Salt: 0.5 gr. p>

Recommended Daily Dose: 30 gr (approx. 1 scoop) / 300 ml of water in a shaker. p>

Ingredients - Strawberry: Egg white protein, glycine, l-alanine, l-lysine, aroma, emulsifier (E322) (sunflower), dye (E162), sweetener (E955, E950). May contain traces of soya and milk. p>

Ingredients - Chocolate: Egg white protein, glycine, l-alanine, l-lysine, cocoa, aroma, emulsifier (E322) (sunflower), sweetener (E955, E950). May contain traces of soya and milk. p>

Ingredients - Vanilla: Egg white protein, glycine, l-alanine, l-lysine, aroma, emulsifier (E322) (sunflower), sweetener (E955, E950). May contain traces of soya and milk. p>

Net Weight: 1 kg p>

Origin: Sweden p>

Conservation: Cool and dry place in closed packaging p>

Expiration batch : Consult packaging p>

We inform you that the food products for sale in this online store may contain substances or products that cause allergies or intolerances. If you need, ask for additional help or clarification in our customer support. p>

p>

p>
| | |
| --- | --- |
| NUTRITIONAL VALUE | PER 100 GR |
| Energy Value | 352 kcal/1475 kJ |
| Lipid | 0g |
| of which saturated | 0g |
| Carbohydrates | 0g |
| of which sugars | 0g |
| Proteins | 88g |
| Salt | 0.5g |
p>
p>
Aditional Information
Write a Review
You must Login to review this product
Login