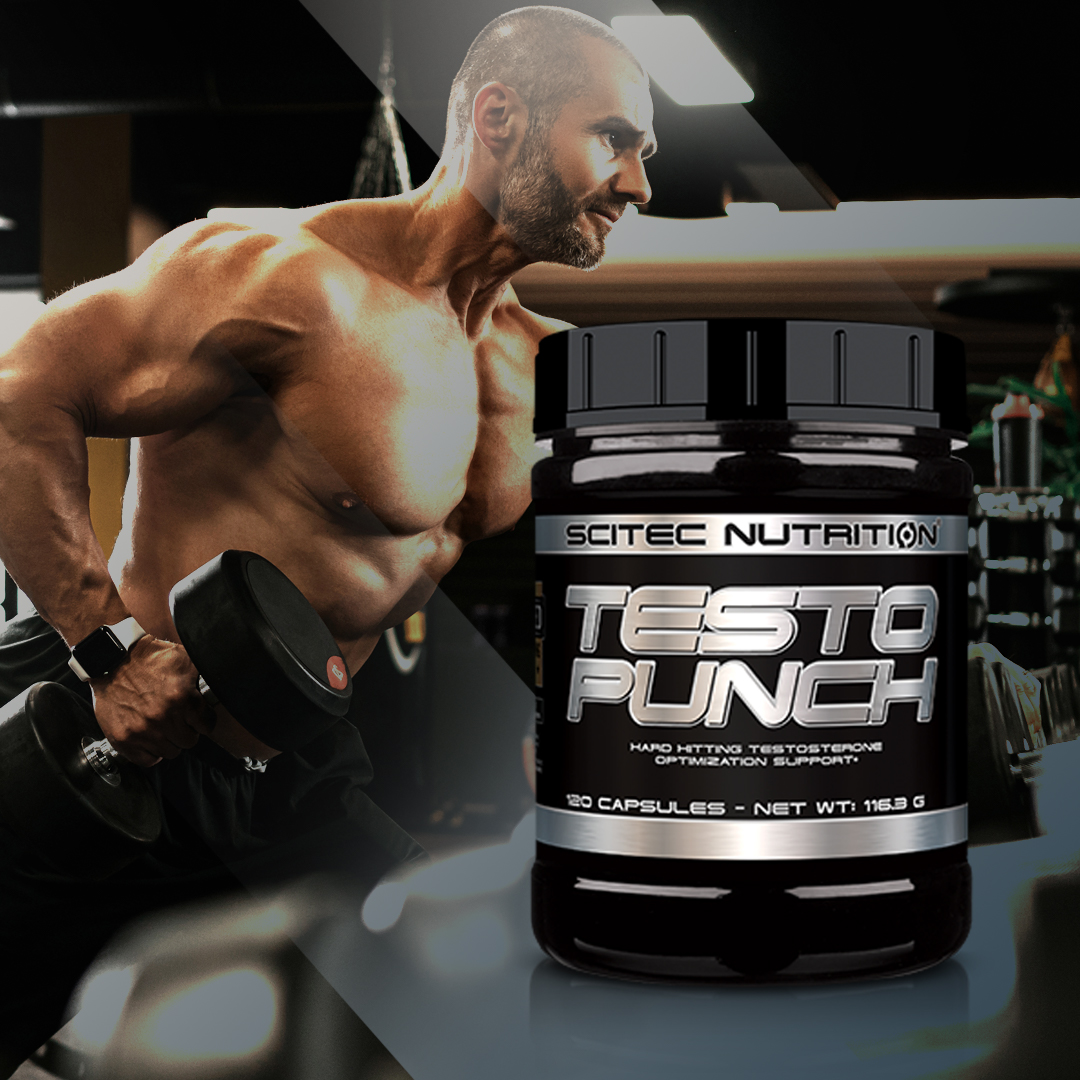 out of stock
TESTO PUNCH 120 Caps.
TESTO PUNCH aumenta os teus níveis de testosterona, eleva os teus níveis de força para atingires os teus objetivos.
Delivery in 24h
100% secure shopping
Returns up to 30 days
Payment on delivery available
---
This article is currently sold out.
Enter your email and we will notify you as soon as it is available.
---
Testo Punch p>
Testo Punch é an ultra sophisticated and comprehensive testosterone, estrogen and libido optimization support matrix with 12 carefully selected potent ingredients! p>
Ingredients: D-Aspartic Acid, Bovine Gelatin, Urtica dioica (Leaf) 10: 1 extract, Avena sativa (Seed) 5: 1 Extract ( Oat ), Lepidium meyenii (Root) powdered, Quercetin extracted from Sophora japonica bud (84%), Serenoa repens (Fruit) 12: 1 extract, Testofen&reg ; Trigonella foenum-graecum (Seed) Extract (50% Fenuside ™), Anti-caking Agent (Magnesium Stearate), Boric Acid, Zinc Sulfate Monohydrate, Color (Titanium Dioxide), Cholecalciferol, D-Calcium Pantothenate, Pyridoxine HCl p>
Warnings:Use this product in combination with food as part of a healthy balanced diet, not as a substitute for it ! Keep out of reach of children! Do not exceed the recommended daily dose! p>
Allergic Information: Manufactured in a facility that processes ingredients from milk, egg, gluten, soy, peanuts, nuts, celery, fish and crustaceans. p>
Use Mode: Take 2 capsules with the coffee; in the morningã and 2 capsules with dinner daily.

Size: 120 capsules - 30 portions p>
Expiration batch: consult packaging p>
We inform you that the food products for sale in this online store may contain substances or products that cause allergies or intolerances. If you need it, ask for help or additional clarifications from our customer support. p>
INFORMAÇÃO NUTRICIONAL p>
Tamanho da dose: 4 cápsulas
Dose por vasilhame: 30
Quantidade por porção
NRV% **
Quantidade por porção
NRV% **
Ácido pantotênico (vitamina B5)
0,9 mg
15%
Zinco
6,0 mg
60%
Vitamina B6
0,84 mg
60%
Quercetina di-hidratada
100 mg
Vitamina D3
5,0 mcg
100%
Boro
3,6 mg
COMPLEXO "TESTO PUNCH"
3000 mg
- Ácido D-Aspártico (2000 mg)
- Extrato de Avena sativa (100 mg)
- Extrato de urtiga (600 mg)
- Extrato de feno-grego Testofen® (100 mg)
- Pó de maca (100 mg)
- Extrato de Saw Palmetto (100 mg)
** NRV%: Valores de Referência de Nutrientes
Aditional Information
Write a Review
You must Login to review this product
Login