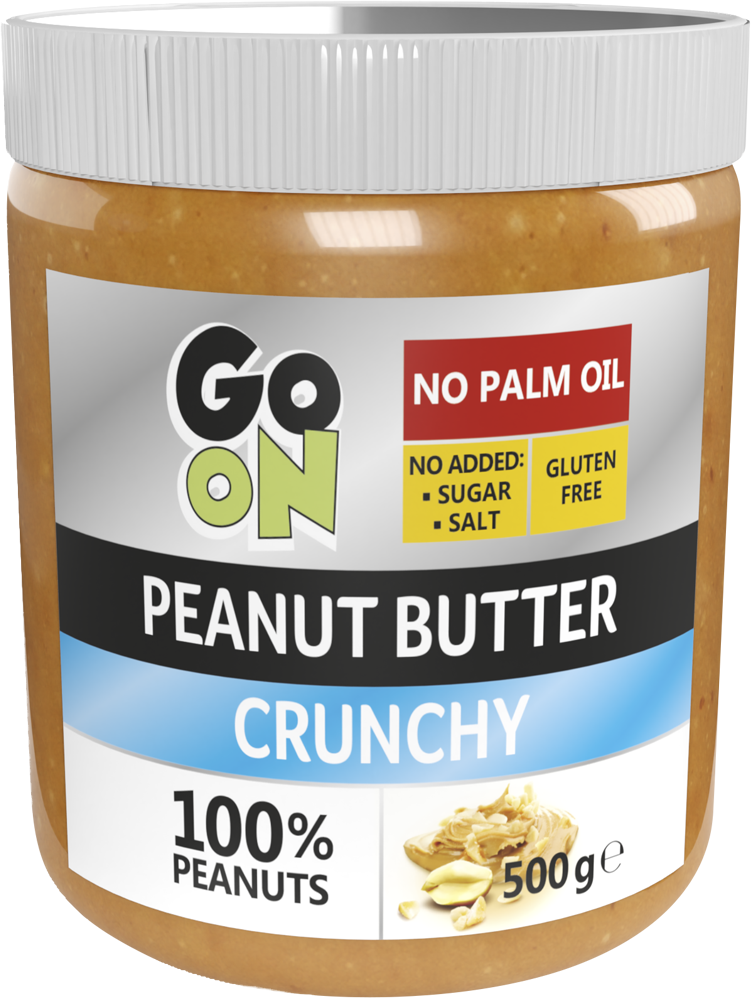 out of stock
Go On Peanut Butter Crunchy 500gms
Go On Peanut Butter is a unique product made from 100% peanuts, without any additives.
Delivery in 24h
100% secure shopping
Returns up to 30 days
Payment on delivery available
---
This article is currently sold out.
Enter your email and we will notify you as soon as it is available.
---
Cruchy Peanut Butter p>
GO ON crunchy peanut butter is a unique product made from 100% peanut, without any additives. This peanut delicacy goes well with sweet, savory and spicy flavors. GO ON crunchy peanut butter can be used as a complement to sandwiches, smoothies, pancakes, desserts and cakes. p>
GO ON Crunchy peanut butter is a source of vegetable protein (up to 27%), which is especially important in the diet of athletes and physically active people. The carbohydrates present in peanuts have a low glycemic index - a tablespoon of peanut butter has a glycemic load of 1. GO ON peanut butter contains naturally occurring salt and sugar in peanuts. It is an ideal source of unsaturated fatty acids, including those as important as linoleic and oleic acids, belonging to the omega-6 and omega-9 families. p>
Peanut butter - properties p>
100% peanuts
100% without artificial additives
Without palm oil
No salt added
No added sugar
Source of unsaturated fatty acids
Protein source - 27%
High fiber content
High content: niacin, folic acid and vitamin E.
Iron source; high content: phosphorus, zinc, magnesium and potassium
Low glycemic index
ul>

Ingredients: roasted peanuts 90%, peanuts chunks 10% p>

Expiration Batch: Consult packaging p>

We inform you that the food products for sale in this online store may contain substances or products that cause allergies or intolerances. If you need it, ask for help or additional clarifications from our customer support.
| | |
| --- | --- |
| Nutritional value | per 100g of product: |
| Energy value | 2472 kJ / 596 kcal |
| Fat | 46 g |
| including saturated fatty acids | 6.8 g |
| Carbohydrates | 14 g |
| including sugars | 6.6 g |
| Fiber | 9.1 g |
| Protein | 27 g |
| salt | 0.03 g |
| Vitamin E | 6.4 mg (53%) * |
| Niacin (vitamin PP) | 13.0 mg (81%) * |
| Folic acid | 112.4 µg (56%) * |
| Potassium | 717 mg (36%) * |
| Phosphorus | 353 mg (50%) * |
| Magnesium | 192 mg (51%) * |
| Iron | 3.1 mg (22%) * |
| Zinc | 3.3 mg (33%) * |
| * NRV-Reference Intake Value for an average adult (8,400 kJ / 2,000 kcal) | - |
Aditional Information
Write a Review
You must Login to review this product
Login