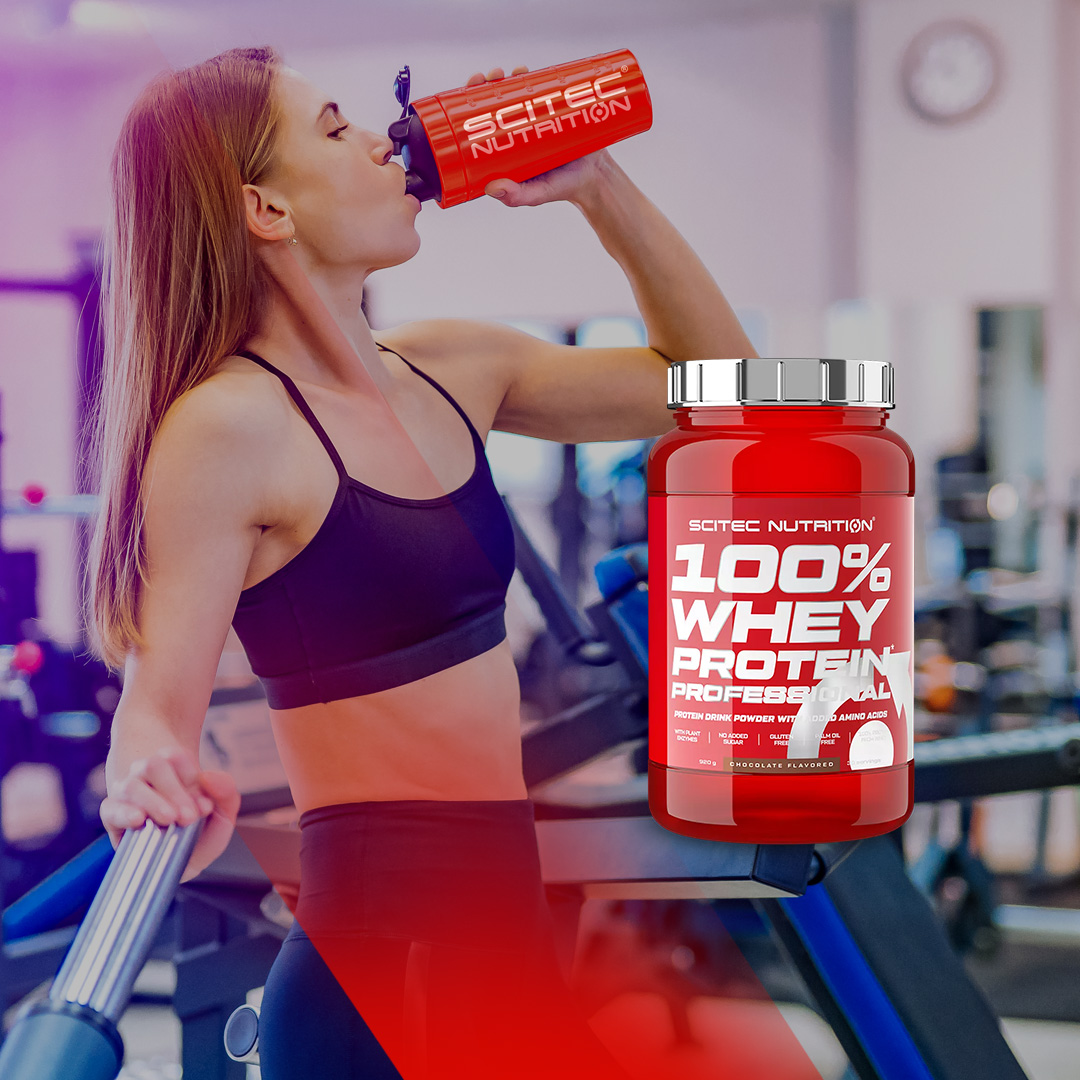 out of stock
WHEY PROTEIN PROF. 920GR
The best help to achieve better muscle building 100% whey with amino acid matrix.
Delivery in 24h
100% secure shopping
Returns up to 30 days
Payment on delivery available
---
This article is currently sold out.
Enter your email and we will notify you as soon as it is available.
---
Food Supplement p>
Whey Protein Professional p>
Of 100% Whey Protein Professional é a blend of excellent quality whey protein from whey concentrate and whey protein isolate. Dietary proteins are a source of nitrogen and essential amino acids that the body needs for tissue growth and maintenance. Therefore, 100% Whey Protein Professional helps to increase and conserve muscle mass and also to keep bones in normal condition*.

Whey protein is ; what is called a complete protein, because it provides the body with all the necessary types of amino acids, including the 9 amino acids that the body cannot synthesize and that must be provided by the diet (ie, histidine, isoleucine, leucine, lysine, methionine, phenylalanine, threonine, tryptophan and valine).

100% Whey Protein Professional has more added components: an "amino acid matrix" which provides additional amino acids such as L-leucine, L-glutamine and taurine. Our formula also includes a mixture of two digestive enzymes: papaya and bromelain.

*These statements have been scientifically proven and authorized by the European Food Safety Authority.
p>
Ingredients: p>
Vanilla: Whey Protein Concentrate (milk), Taurine, Aromas (Vanilla, Yogurt), Yogurt Pó (milk), Sodium Chloride, L-Glutamine, Sweeteners (Acesulfame K, Sucralose), L-Leucine, Thickener (Xanthan Gum), Whey Protein Isolate (<< strong>Milk), Dextrose, Bromelain extracted from Ananas comosus (1200 UDG/g), Papaya extracted from Carica papaya (1.5 FIP U/mg).

Hazelnut Chocolate: Whey Protein Concentrate (milk), Taurine, Lean Cocoa Pó (3%), Aromas (Chocolate, Hazelnut, Creamy Vanilla), Sodium Chloride, L-Glutamine, Thickener (Xanthan Gum), L-Leucine, Sweeteners (Acesulfame K, Sucralose), Protein Isolate Whey (milk), Dextrose, Bromelain extracted from Ananas comosus (1200 UDG/g), Papaya extracted from Carica papaya (1.5 FIP U/mg).< br />
Chocolate: Whey Protein Concentrate (milk), Lean Cocoa Pó (6%), Taurine, Flavors (Chocolate, Cream), Sodium Chloride, L-Glutamine, L-Leucine, Thickener (Xanthan Gum), Sweeteners (Acesulfame K, Sucralose), Whey Protein Isolate (milk), Bromelain extracted from Ananas comosus (1200 UDG/g), Papaya extracted from Carica papaya (1.5 FIP U/mg), Dextrose

Strawberry: Whey Protein Concentrate (milk), Aroma (Strawberry), Taurine, Acidity Regulator (Citric Acid Monohydrate ), Sodium Chloride, Color (Beet Red), L-Glutamine, Sweeteners (Acesulfame K, Sucralose), L-Leucine, Thickener (Xanthan Gum), Whey Protein Isolate (milk), Bromelain extracted from Ananas comosus (1200 UDG/g), Papaya extracted from Carica papaya (1.5 FIP U/mg), Dextrose.

Strawberry White Chocolate: Whey Protein Concentrate (milk), Aromas (White Chocolate, Strawberry), Taurine, Acidity Regulator (Anhydrous Citric Acid), Sodium Chloride, L-Glutamine, Thickener (Xanthan Gum), Dye (Beet Red), Sweeteners (Acesulfame K, Sucralose), L-Leucine, Whey Protein Isolate (milk), Dextrose, Bromelain extracted from Ananas comosus (1200 UDG /g), Papaya extracted from Carica papaya (1.5 FIP U/mg).


***May have harmful effect on levels of activity and attention to children p>
How to use: Mix 1 serving (30 g) in 250 ml of water, milk or any other liquid per day. The best time to use é after training.
p>
Allergic information: Manufactured in facilities where they also process milk, eggs, gluten, soy, peanuts, walnuts, celery, fish and shellfish. p>
Flavors: Hazelnut Chocolate, Chocolate, Strawberry, Strawberry White Chocolate, Vanilla p>
Expiration batch: Consult packaging p>
We inform you that the food products for sale in this online store may contain substances or products that cause allergies or intolerances. If you need it, ask for help or additional clarifications from our customer support. p>
NUTRITIONAL INFORMATION p>
1 serving: 30 g (3/4 dispenser)
30 g
DR%
100 g
30 g
DR%
100 g
Energy
470 kJ
6%
1558 kJ
Carbohydrates
1.4 g
1%
4.7 g
112 kcal
371 kcal
of which they are sugars
1.4 g
2%
4.7 g
Fats
2.0 g
3%
6.7 g
Protein
22 g
44%
73 g
of which they are saturated
0.7 g
4%
2.3 g
Sal
0.41 g
7%
1.4 g
Amino Acid Matrix
1300 mg
-
4333 mg
Digestive Enzyme Matrix
24 mg
-
80 mg
(L-Leucine 100 mg, L-Glutamine 210 mg, Taurine 990 mg)
(Bromelain 12 mg, Papaya 12 mg)
Amino Acid Profile (% Protein)
L-Alanine
5.0
L-Lysine**
9.6
L-Arginine
2.1
L-Methionine**
2.2
L-Aspartic Acid
11.0
L-Phenylalanine**
3.0
L-Cysteine
2.2
L-Proline
5.5
L-Glutamine
18.1
L-Serine
4.6
Glicína
1.4
L-Threonine**
6.7
L-Histidine**
1.7
L-Tryptophan**
1.4
L-Isoleucine**
6.4
L-Tyrosine
2.6
L-Leucine**
10.6
L-Valine**
5.9
*DR%: Reference Dose for an average adult (8400 kJ/2000 kcal)
**Essential Amino Acids
div>
Aditional Information
Write a Review
You must Login to review this product
Login
Delivery in 24h
Delivered the next business day if made before 4pm
Returns up to 30 days
We accept returns up to 30 days from the delivery date
24/7 Support
We are available to answer all your questions