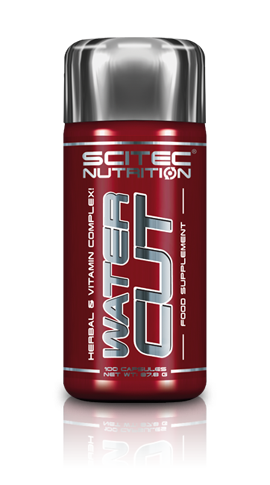 out of stock
WATER CUT 100 CPS
It is a diuretic supplement specially created for fluid retention and excess fluid.
Delivery in 24h
100% secure shopping
Returns up to 30 days
Payment on delivery available
---
This article is currently sold out.
Enter your email and we will notify you as soon as it is available.
---
Food Suplement p>
Water Cut p>
Water Cut a complex formula that can enhance excess water disposal for both ordinary people and serious physical competitors! It is formulated with 8 micronutrients and herbal extracts with synergistic and carefully selected effects.
Warnings: As with all exercise and nutrition programs, consult your doctor first. Do not use as a substitute for a varied diet. This product is not intended to diagnose, treat, cure or prevent any disease, nor is it intended to diagnose, treat, cure or prevent any disease. a meal replacement. Do not exceed the recommended daily dose. Keep out of reach of children! Use this product in conjunction with food, as part of a healthy and balanced diet, not as a substitute for it.

Ingredients: L-ascorbic acid, extract of Cynara scolymus 10:1 (leaf), Bovine Gelatin, extract of Camelia sinensis 8:1 (leaf), extract of Vaccinium macrocarpon 25:1 (fruit), extract of Taraxacum officinale 16-19:1 (z root), Petroselium crispum 10:1 (herb), Bulking agent (Magnesium Stearate) , Juniperus communis 4:1 (fruit), Pyridoxine Hydrochloride, Colorant (Titanium Dioxide, Black Iron Oxide, Glossy Black BN).

Allergic Information: Manufactured in facilities where they also process milk, eggs, gluten, peanuts, nuts, fish and shellfish ingredients.
How to use: Take 2 capsules with 500 ml of water, twice a day, once in the morning. and a à evening. Stay properly hydrated throughout the day.

Quantity : 100 capsules
Origin: Hungary
Conservation Mode: Cool and dry place and in closed packaging
Expiration batch: consult packaging
Please be advised that food products for sale in this online store may contain substances or products that cause allergies or intolerances. If you need it, ask for additional help or clarification from our customer service.
NUTRITIONAL INFORMATION p>
1 serving: 4 capsules
Serving Per Container: 25
Amount per serving
VRN*
Amount per serving
VRN*
Vitamin C
1000 mg
1250%
Vitamin B6
8 mg
571%
Artichoke Extract
700 mg
Dandelion extract
200 mg
American Cranberry Extract
400 mg
Parsley extract
200 mg
Tea extract; green (50% Polyphenols)
400 mg
Juniper Extract
40 mg
of which é Caffeine
40 mg
*VRN%: Nutrient Reference Value
div>
Aditional Information
Write a Review
You must Login to review this product
Login
Delivery in 24h
Delivered the next business day if made before 4pm
Returns up to 30 days
We accept returns up to 30 days from the delivery date
24/7 Support
We are available to answer all your questions