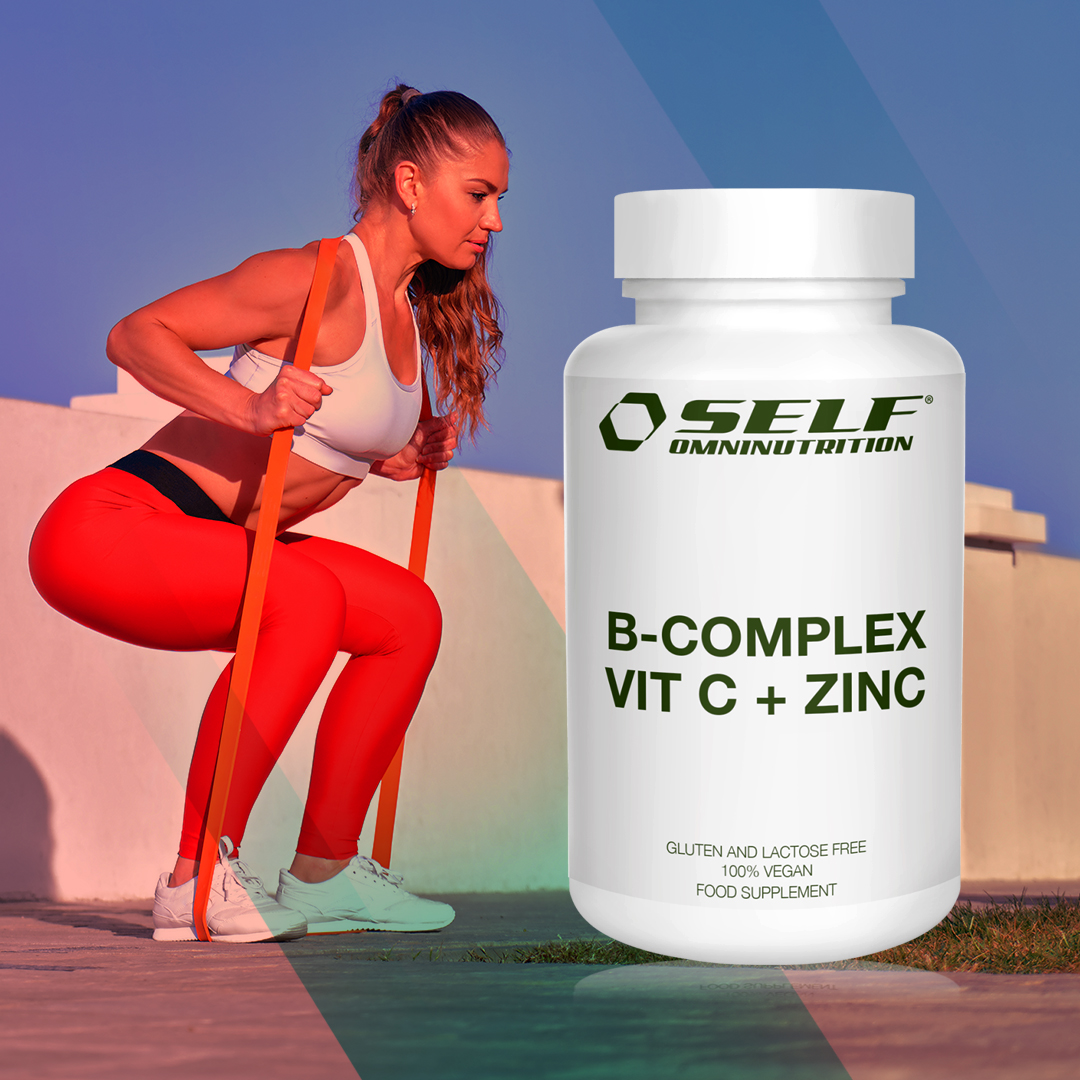 Self Omninutrition - B-Complex Vitamin C + Zinc - 60 tbts
Hurry! This offer is limited.
Increased focus, reduces mental fatigue, increases concentration, increases energy, gluten free.
Create a FitBen account and receive an additional 10% off on your first purchase
Delivery in 24h
100% secure shopping
Returns up to 30 days
Payment on delivery available
---
Promotion valid from 2022-08-01 to 2022-08-31 unless out of stock
Food Suplement
Warnings: The product is aimed exclusively at adults, and should be used with a varied, balanced diet and a healthy lifestyle. Do not exceed recommended serving. Do not use during breastfeeding, pregnancy, or by children, or for long periods without medical consultation.
Key benefits:
Increased focus

Reduces mental fatigue

Increases concentration

Increases energy

Gluten free

ul>

Recommended daily dose: 1 capsule. Ingredients (per 1 capsule): Zinc (zinc gluconate) 15mg (150% ), vitamin C (ascorbic acid) 500mg (652% ), vitamin B1 / thiamine (thiamine Hcl) 25mg (2273% ), vitamin B2 / riboflavin 25mg (1785% ), vitamin B3 / niacin (nicotinamide) 54mg 342% ), vitamin B6 (pyridoxine Hcl) 9.5mg (645% ), 400ug folic acid (200%), vitamin B12 (cyanocobalamin ) 1000ug (40000% ), biotin (d-biotin) 0.45mg (225% ), pantothenic acid 18mg (300% ), stabilizer (E460, veg E470b), encapsulating agent (veg E1204). - (EU) Nr 1169/2011 - Reference values for daily nutrients.

Quantity: 60 capsules

Origin: Sweden

Conservation: Cool and dry place in closed packaging

Expiration batch: consult packaging

We inform you that the food products for sale in this online store may contain substances or products that cause allergies or intolerances. If you need, ask for additional help or clarification in our customer support
| | |
| --- | --- |
| NUTRITIONAL VALUES | BY 1 CAPSULE |
| Zinc (zinc gluconate) | 15mg (150%*) |
| vitamin C (ascorbic acid) | 500mg (652%*) |
| vitamin B1/thiamine (thiamine Hcl) | 25mg (2273%*) |
| vitamin B2/riboflavin | 25mg (1785%*) |
| vitamin B3/niacin (nicotinamide) | 54mg (342%*) |
| vitamin B6 (pyridoxine Hcl) | 9.5mg (645%*) |
| folic acid | 400ug (200%*) |
| vitamin B12 (cyanocobalamin) | 1000ug (40000%*) |
| biotin (d-biotin) | 0.45mg (225%*) |
| pantothenic acid | 18mg (300%*) |
stabilizer (E460, veg E470b), encapsulating agent (veg E1204) . p>
(*) – (EU) Nr 1169/2011 – Reference values ??of daily nutrients. p>
Aditional Information
Write a Review
You must Login to review this product
Login