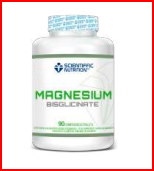 MAGNESIUM Bisglicinato 300MG 90 Comp.
Contribuição básica na alimentação de qualquer atleta.
Delivery in 24h
100% secure shopping
Returns up to 30 days
Payment on delivery available
---
Food Supplement
MAGNESIUM 90 Pills
Basic contribution to the diet of any athlete.
Ingredients: Magnesium Bisglycinate, Bulking Agents (Microcrystalline and Dicalcium Cellulose Phosphate), Anti-caking Agents (Magnesium Stearate and Silicon Dioxide) and Pyridoxine Hydrochloride.
Allergens: May contain traces of Gluten, Eggs and Nuts. Manufactured in a plant that uses raw materials that have these allergens, but minimizes the risk of cross-contamination.
Instructions for use: Take 2 tablets with water daily. Preferably before training and before bed
Batch expiration date: consult packaging
We inform you that the food products for sale in this online store may contain substances or products that cause allergies or intolerances. If you need it, ask for help or additional clarifications from our customer support.
 re>                  
Write a Review
You must Login to review this product
Login