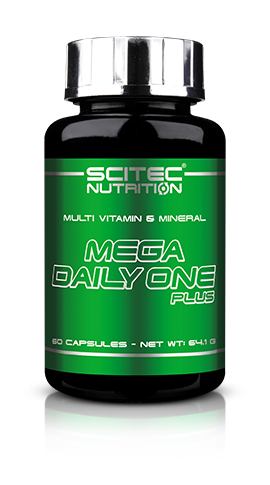 out of stock
MEGA DAILY ONE PLUS 60 CAPS
Scitec Nutrition Mega Daily One Plus is an excellent multivitamin and advanced mineral formula that brings together 25 ingredients in a single product to improve health and well-being. Vitamins A, B complex, C, D, E, rutin (vitamin P) and minerals: magnesium, selenium, zinc, calcium, copper, manganese, molybdenum are examples of the various micronutrients that Mega Daily One Plus has and your body needs. It has antioxidants that protect your body's cells Improves the absorption and metabolism of essential nutrients for energy production Contributes to the improvement of recovery, bone and muscle tissue Excellent for strengthening the immune system Improves nervous system functions Promotes improved cognitive functions such as the ability to concentrate and quick response to stimuli Optimizes the regulation of the hormonal system Contributes to the improvement of the physical condition of athletes Reduce the feeling of fatigue. Feel good and have energy for your goals
Delivery in 24h
100% secure shopping
Returns up to 30 days
Payment on delivery available
---
This article is currently sold out.
Enter your email and we will notify you as soon as it is available.
---
Food Supplement
Mega Daily One Plus é our advanced multi-vitamin and mineral formula with 25 ingredients! It features a high-dose complex of vitamin B and vitamin C plus essential minerals including magnesium, selenium and zinc. Vitamin C contributes to the normal function of the immune and nervous system, and to the reduction of tiredness and fatigue.

It also helps to maintain your health. normal functioning of the immune system during and after intense exercise (the beneficial effect is obtained with a daily dose of 200 mg in addition to the recommended daily intake of vitamin C )! Vitamin B2 contributes to the maintenance of normal vision and normal red blood cells. Folate contributes to normal amino acid synthesis.

Mega Daily One Plus has 240% of the recommended daily allowance of vitamin D3! Vitamin D contributes to the maintenance of normal muscle and the function of the immune system, and to the absorption/use of normal calcium and exercise sphorus.

Zinc contributes to normal levels of reproduction and fertility, and to the maintenance of normal levels of testosterone in the blood, and also to the maintenance of normal levels of testosterone in the blood. the normal metabolism of macronutrients.

Magnesium contributes to the normal functioning of the nervous system: neurotransmission and muscle contraction, including the heart muscle; it also supports normal protein synthesis and the maintenance of normal bones and teeth.*
Selenium contributes to normal spermatogenesis, to thyroid function. and for the maintenance of normal hair and nails.

*These statements have been scientifically proven and authorized by the European Food Safety Authority (EFSA). )
Ingredients: Calcium Carbonate, DL-Alpha Tocopherol Acetate, Bovine Gelatin, L-Ascorbic Acid, Magnesium, Calcium D-Pantothenate, Nicotinamide, Riboflavin, Thiamine Mononitrate, Water, Ferrous Fumarate II, Pyridoxine HCl, Rutin extracted from Sophora Japonica flower (86%), Zinc Sulphate Monohydrate, Choline Bitartrate, Anti-caking Agent (Magnesium Stearate), Retinol Acetate, D-Biotin, Manganese Sulfate Monohydrate, Hesperidin extracted from Citrus aurantium fruit (93%), Sodium Selenite, Inositol, Cyanocobalamin, Dyes (Thiacin Oxide, Black Iron Oxide, Indigotin), Cholecalciferol, Copper II Sulfate Pentahydrate, Pteroylmonoglutamic Acid, Potassium Iodide, Sodium Molybdate coating (shellac)
Attention: As with all exercise and nutrition programs, consult your doctor first. Do not use as a substitute for a varied diet. This product is not intended to diagnose, treat, cure or prevent any disease, nor is it intended to diagnose, treat, cure or prevent any disease. a meal replacement product, use only as a food supplement. Do not exceed the recommended daily dose. Keep out of reach of children! Use this product in conjunction with food, as part of a healthy, balanced diet, not as a substitute for it.
How to use: Take 1 capsule twice a day with meals.
Allergic information: Manufactured in facilities where they also process milk, eggs, gluten , soy, peanuts, nuts, celery, fish and shellfish.

Presentation: 60 capsules – 30 doses,
Expiration batch: consult packaging
We inform you that the food products for sale in this online store may contain substances or products that cause allergies or intolerances. If you need it, ask for help or additional clarifications from our customer support.
NUTRITIONAL INFORMATION p>
One dose: 2 capsules
Amount per serving
%VRN*
Amount per serving
%VRN*
Vitamin A
2249 mcg
281%
Magnesium
87 mg
23%
Vitamin B1 (Thiamin)
39 mg
3545%
Iron
13 mg
93%
Vitamin B2 (Riboflavin)
48 mg
3429%
Zinc
10 mg
100%
Vitamin B3 (Niacinamide)
50 mg NE
312%
Mangaês
4.7 mg
235%
Vitamin B5 (Pantothenic acid)
47 mg
783%
Copper
1000 mcg
100%
Vitamin B6 (Pyridoxine)
25 mg
1786%
Idio
120 mcg
80%
Vitamin B7 (Biotin)
184 mcg
368%
Selenium
48 mcg
87%
Vitamin B9 (Folic acid)
366 mcg
183%
Molybdenum
7.5 mcg
15%
Vitamin B12 (Cyanocobalamin)
95 mcg
3800%
Rutin
25 mg
Vitamin C
250 mg
312%
Hesperidin
11 mg
Vitamin D
12 mcg
240%
Hill
10 mg
Vitamin E
126 mg α-TE
1050%
Inositol
10 mg
Calcio
193 mg
24%
* VRN%: Nutrient Reference Value.
div>
Aditional Information
Write a Review
You must Login to review this product
Login
Delivery in 24h
Delivered the next business day if made before 4pm
Returns up to 30 days
We accept returns up to 30 days from the delivery date
24/7 Support
We are available to answer all your questions