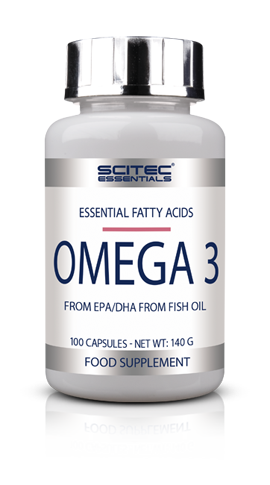 out of stock
OMEGA3 100 CAPS
Omega 3 helps relieve inflammation and joint pain. Excellent ability to improve the health, appearance of skin, hair and nails.
Delivery in 24h
100% secure shopping
Returns up to 30 days
Payment on delivery available
---
This article is currently sold out.
Enter your email and we will notify you as soon as it is available.
---
Food Supplement p>
Omega 3 Capsules contain two 'good' unsaturated fatty oils - EPA and DHA - allowing you to easily get the scientifically suggested dose of essential fatty oils! DHA contributes to the maintenance of normal brain function and normal vision*. The beneficial effects are obtained from a daily intake of 250 mg of DHA. EPA and DHA contribute to the normal functioning of the heart*. This beneficial effect is; obtained with a daily intake of 250 mg of DHA and EPA. Our formula contains 165 mg DHA and 235 mg EPA per capsule. 2 daily capsules of our product provide the required amount of ingredients.

*These statements have been scientifically proven by the European Food Safety Authority and authorized. by the European Commission
p>
How to use: Take 1 softgel capsule twice a day with meals

p>
Allergic information: Manufactured in facilities where they also process milk, eggs, gluten, peanuts, nuts, fish and shellfish ingredients.
p>
Warnings: Do not exceed the recommended daily dose. keep out of reach of children! Use this product in conjunction with food, as part of a healthy and balanced diet, not as a substitute for it. p>
Quantities: 100 capsules - 50 doses p>
Ingrediebts: Fish Oil, Gelatin, Humidifier (Glycerol), Water, Antioxidant (Tocopheró is Mixed). p>
Expiration batch: consultar packaging p>
We inform you that the food products for sale in this online store may contain substances or products that cause allergies or intolerances. If you need it, ask for help or additional clarifications from our customer support.

p>
p>
NUTRITIONAL INFORMATION p>
1 serving: 2 capsules
Servings per container: 50
Amount per serving
Amount per serving
Fish Oil
2000 mg
from which
which are Omega-3 Fatty Acids
960 mg
EPA (Eicosapentanoic Acid)
420 mg
(total amount)
DHA (Docosahexaenoic Acid)
300 mg
Aditional Information
Write a Review
You must Login to review this product
Login