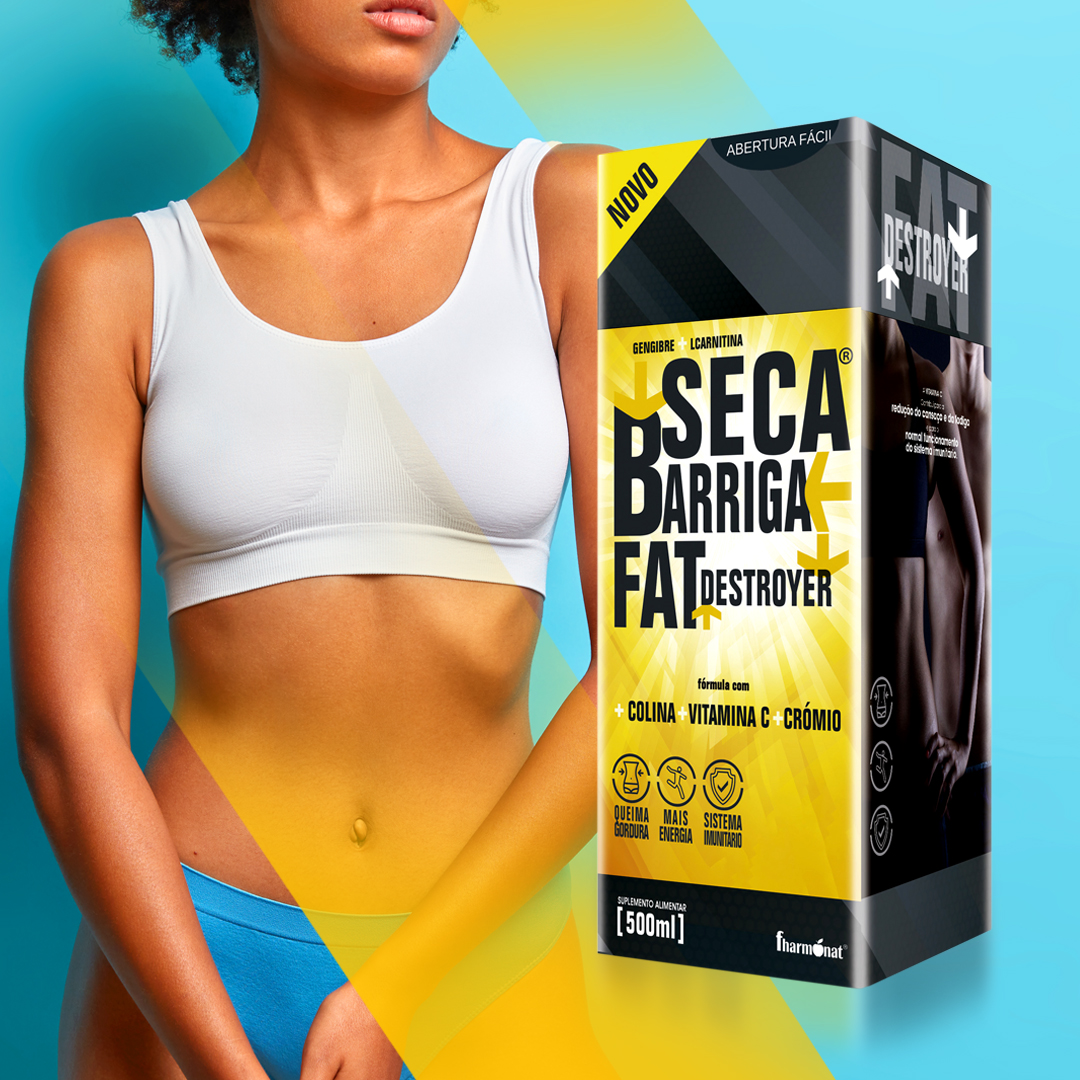 SecaBarriga ® Fat Destroyer 500ml
Thermogenic, Draining, Anti Cellulite, Flat Belly, Weight Loss and Fat Destruction
Delivery in 24h
100% secure shopping
Returns up to 30 days
Payment on delivery available
---
Food Supplement p>
Contains Sweetener p>
Dry Belly Fat Destroyer 500ml is formulated with a selection of thermogenic effect ingredients, with Ginger, Coffee; Green, Guaraná, Chá Green, Cinnamon and Cayenne Pepper that help to use the accumulated fat in the body as a source of energy, destroying it. Ginger increases metabolism and your caloric expenditure, stimulates digestion and also promotes satiety , reducing hunger peaks during the day. The Artichoke é rich in Cinarin, a substance that has the ability to stimulate the production of bile and gastric juice, helping to improve the digestion of fat contained in food, and reducing hunger peaks during the day . Choline promotes the proper functioning of the liver, helping with excess fat accumulated in the organs and arteries, thus helping to regulate cholesterol levels.
Warnings

: Do not exceed recommended dosages. Food supplements should not be used as a substitute for a varied diet. É A balanced diet and a healthy way of life are important. Keep out of the reach and sight of children. The product should not be used in case of hypersensitivity or allergy to any of its constituents. It should not be used by pregnant or breastfeeding women. Preserve from light and heat. É It is recommended that you consult a physician or nutritionist if you have any questions regarding this &aserious; use of our product.
Ingredients: Ext. Hid. of Zingiber officinale, Ginger - 1750mg, Ext. Hid. of Coffea arabica, Coffee, Coffee; Green - 1000mg, L-Carnitine - 1000mg, Ext. Hid. de Paullinia cupanat, Guaraná - 500mg, Ext. Hid. of Camelia sinensis, Chá Green - 500mg; Ext. Hid. of Cynara scolymus, Artichoke - 100mg; Ext. Hid. of Cinnamomum zeylanicum, Cinnamon - 100mg; Choline - 82.5mg; Vitamin C - 80mg; Ext. Hid. of Capsicum annuum, Cayenne Pepper - 10mg; Chromium - 40µg.
How to Use: Dilute 25ml in a 1.5L water bottle and drink it throughout the day, preferably outside meals. Shake before using.
Net weight: 500ml
Storage: Store in a cool, dry place. Preserve from light and heat. Store in a dry place and at a temperature below 25ºC.
Expiration batch: consult packaging
Please be advised that food products à sale in this online store, may contain substances or products that cause allergies or intolerances. If you need it, ask for additional help or clarification from our customer support team.
Complementary Information p>
p>
Daily Takes : 25ml p>

Serves per Package: 20 p>

QT. DAILY
% VRN*1
Ext. hid. Zingiber officinale, Ginger
1750mg
*
Ext. hid. Goffea arabica,Coffee; Green
1000mg
*
L-Carnitine
1000mg
*
Ext. hid. of Paullinia cupana, Guaraná
500mg
*
Ext. hid. Camelia sinensis,Chá Green
500mg
*
Hill
82.5mg
*
Vitamin C
80mg
100%
Ext. hid. Cynara scolymus, Artichoke
100mg
*
Ext. hid. Cinnamomum zeylanicum, Canela
100mg
*
Ext. hid. from Capsicum annuum, Cayenne Pepper
10mg
*
Chromium
40ug
100%
(*) VRN not established p>
(*1) Nutrient reflow value p>
Net quantity: 500ml p>
Aditional Information
Write a Review
You must Login to review this product
Login
Delivery in 24h
Delivered the next business day if made before 4pm
Returns up to 30 days
We accept returns up to 30 days from the delivery date
24/7 Support
We are available to answer all your questions