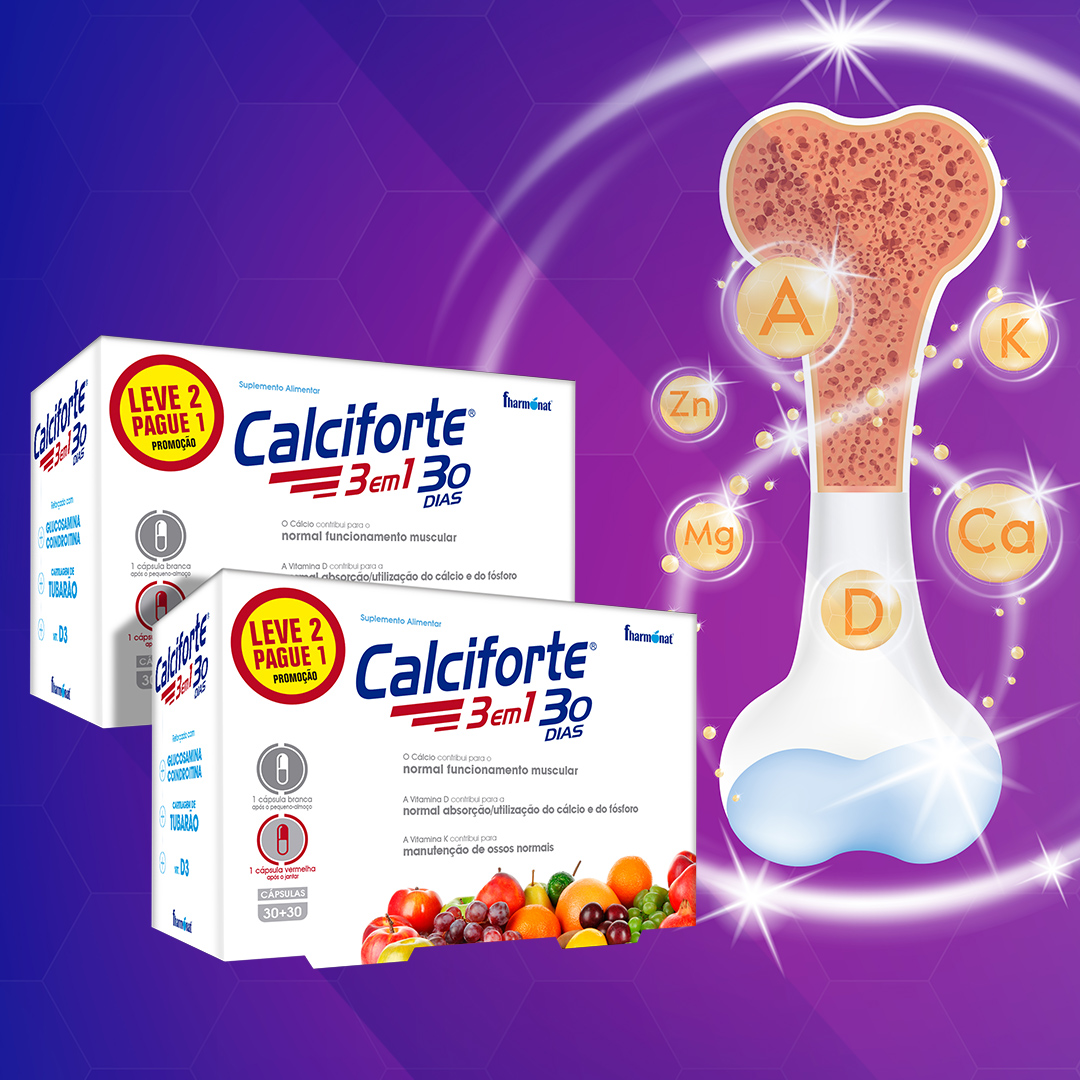 Calciforte 3 IN 1 – 2 X 30+30 Capsules
Food supplement with 2 capsules - 60 days (2 boxes). Contributes to normal muscle function.
Delivery in 48h
100% secure shopping
Returns up to 30 days
Free shipping from €30
---
Food Supplement p>
Calciforte p>
Warnings: The product should not be used in case of hypersensitivity or allergy to any of its constituents. It should not be used by pregnant or breastfeeding women p>
Contains calcium, magnesium, glucosamine, chondroitin, vitamins D3, C and K2. p>
Ingredients: p>
White Capsule: Calcium Carbonate, Calcium Citrate (Total Calcium), Magnesium Oxide (Magnesium) ;sodium), Vitamin D3.
Red Capsule: Glucosamine Sulfate, Vitamin C, Marine Chondroitin Sulfate, Harpagophytum procumbes, Harpago, Cartilage of Shark (with a minimum content of 4% Chondroitin Sulfate), Vitamin K2.
ul>

How to Use: Take 1 white capsule after breakfast, and 1 red capsule after dinner p>

Allergens: Fish. Rust p>

Net weight: 350 gr p>

Storage: Keep in a cool, dry place. Preserve from light and heat. Store in a dry place and at a temperature below 25ºC p>

Expiration batch: consult packaging p>

We inform you that the food products for sale in this online store may contain substances or products that cause allergies or intolerances. If you need it, ask for help or additional clarifications from our customer support.
Complementary Information p>
p>
Take Daily : 1 white capsule and 1 red capsule p>

Serves per Package: 30 p>

QT. DAILY
% VRN*1
1 White Capsule
Calcium Carbonate
286.5mg
*
Calcium Citrate
80mg
*
(full calcium)
120mg
15%
Magnesium Oxide
62.5mg
*
(Magnesium)
(37.69mg)
10.05%
Vitamin D3
5ug
100%
1 Red Capsule
Glucosamine Sulfate
175mg
*
Vitamin C
80mg
100%
Chondroitin Sulfate Marine
37.5mg
*
Harpagophytum procumbes, Harpagus
25mg
*

Shark Cartilage p>

(with a minimum content of 4% Chondroitin Sulfate) p>

200mg
*

Vitamin K2 p>

75ug
100%
(*) VRN not established p>
(*1) Nutrient reflow value p>
Net quantity: 36g p>
Write a Review
You must Login to review this product
Login