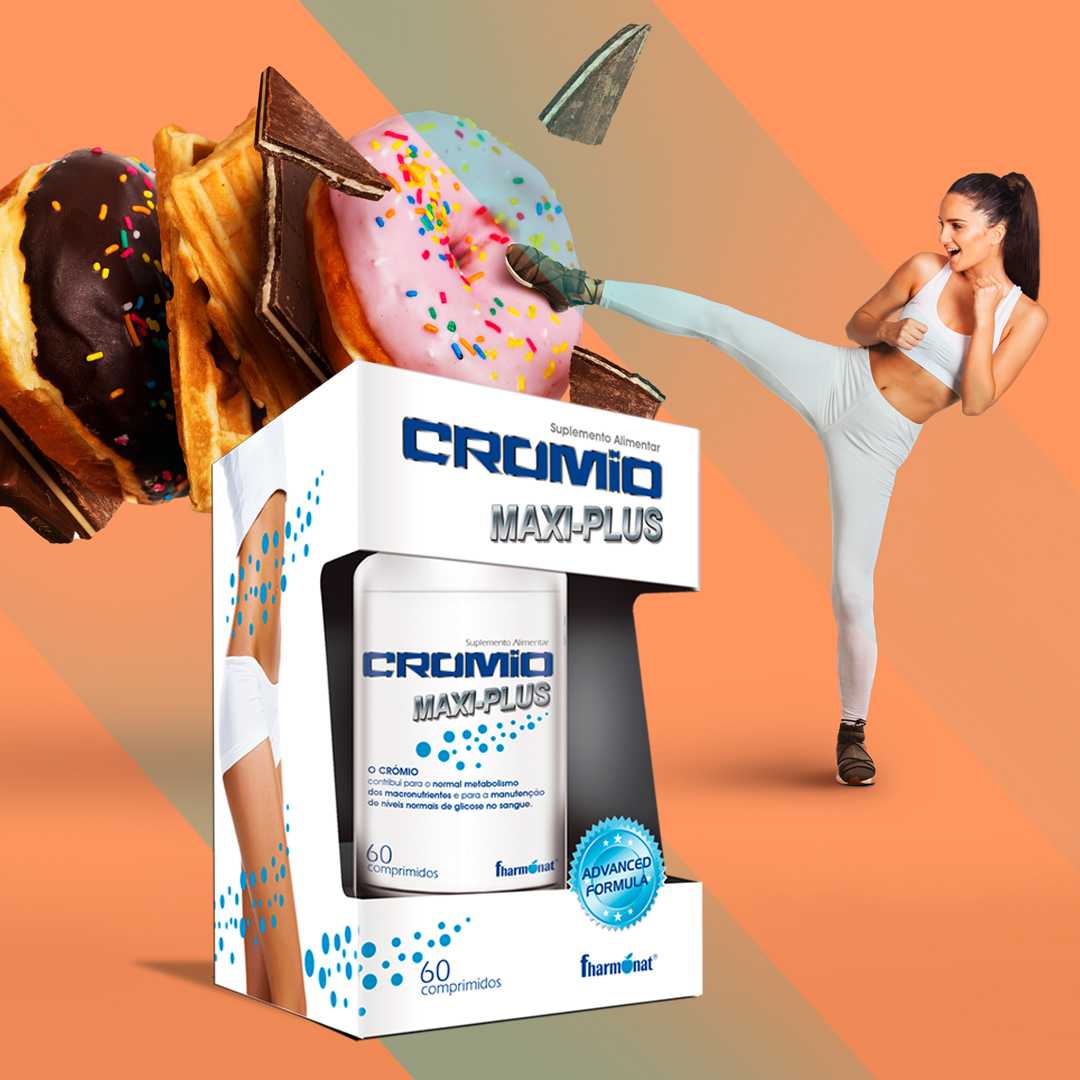 Chromium Maxi Plus 60 Comp.
It promotes fat burning and helps control the craving for sweets, speeding up the weight loss process.
Delivery in 24h
100% secure shopping
Returns up to 30 days
---
Food Supplement p>
One of the most difficult aspects of diets is; be able to control the craving for sweets and food. However, é It is important that you know that these sudden and uncontrollable appetites are largely the result of a lack of chromium in the body.
Many people with low chromium levels experience hunger afterward. the meals, spontaneously and unjustified. Sudden drops in blood sugar levels may be responsible for this desire to eat, not necessary; ria.
Like calcium, chromium is; one of the essential minerals, that is, we can obtain it through food. However, it is found in food in small quantities and, with increasingly poor soils, its concentration chromium & eacute; smaller and smaller. p>
Warnings

: É It is advisable to consult a doctor or nutritionist whenever you have questions about the consumption of this product. the recommended daily dose. Pregnant or lactating women, children under the age of 18 and people with medical conditions should consult a health care professional before taking this or any other dietary supplement. Keep the package out of the reach of children. This food supplement should not be used as a substitute for a varied diet. This food supplement is not intended to diagnose, treat, cure or prevent any disease.
Ingredients: Cynara scolymus(Artichoke) - 95 mg, Chromium Picolinate - 1005.6 µg, Chromium - 125 µ Red (seed) 0.16%; aggravated Alpha Lipoic Acid 0.10%; Dye: Sulfuric Ammonia Caramel; Aroma; Zinc Sulfate (Zinc) 0.05%; Preservative: Sodium Benzoate; ÀHyaluronic Acid 0.02%; Sweetener: Sucralose; Sodium Selenite (Selenium) <0.01%. p>
Recommended daily dose: Take 1 tablet before lunch p>
Quantity: 60 tablets p>
Conservation: Keep in a cool, dry place. Preserve from light and heat. Store in a dry place and at a temperature below 25ºC. p>
Expiration batch: consult packaging p>
Please be advised that food products à sale in this online store, may contain substances or products that cause allergies or intolerances. If you need it, ask for additional help or clarification from our customer support team. p>
Complementary Information p>
p>
Daily Takes: 1 Pill p>

Serves per Package: 60 p>

QT. DAILY
% VRN*1
Cynara Scolymus, Artichoke
95mg
*
Chromium
125ug
312.5%
(*) VRN not established p>
(*1) Nutrient reflow value p>
Net quantity: 30.23g p>
Write a Review
You must Login to review this product
Login