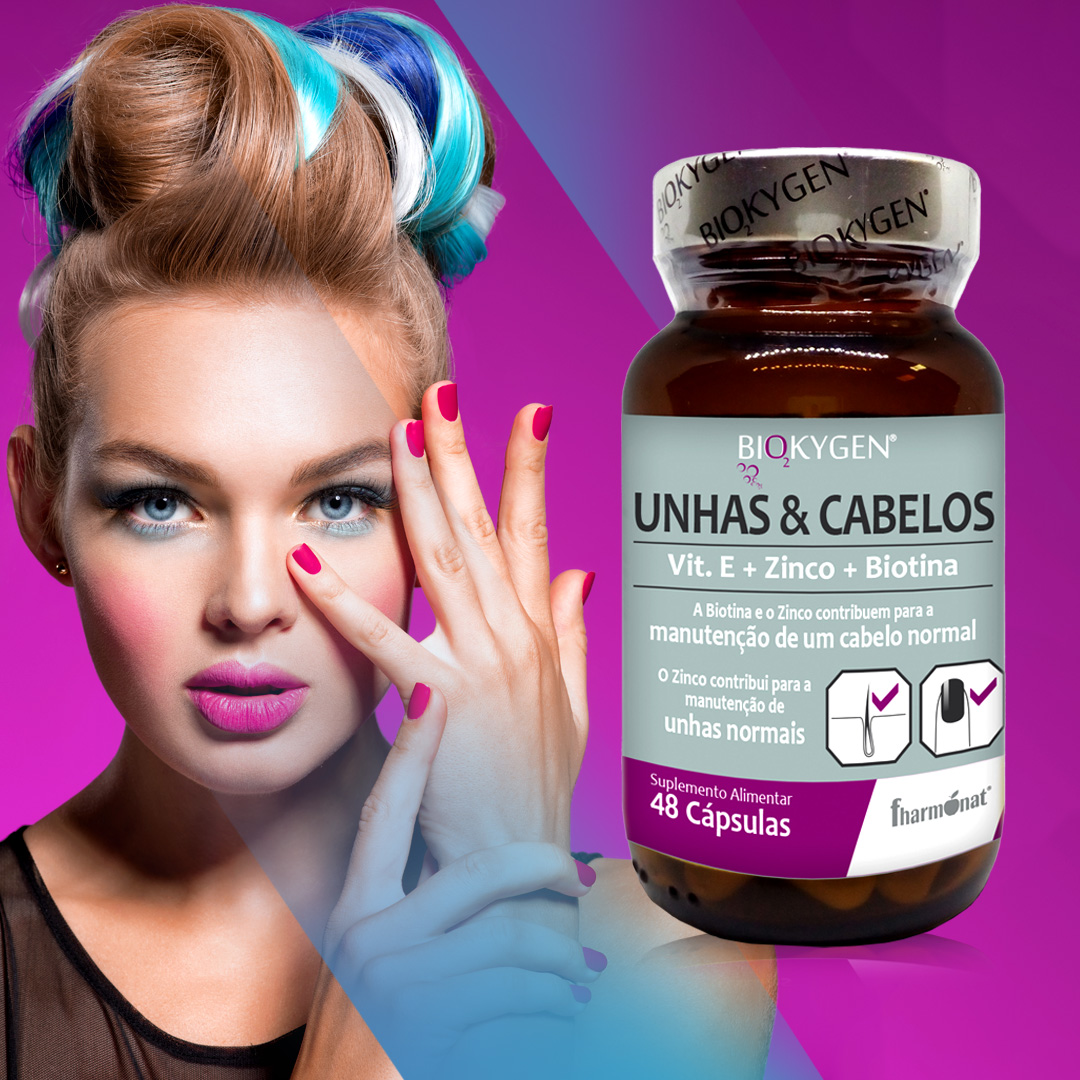 Biokygen Nails and Hair 48 Caps
Biotin and Zinc contribute to the maintenance of normal hair. Zinc contributes to the maintenance of normal nails.
Delivery in 24h
100% secure shopping
Returns up to 30 days
---
Biokygen Nails and Hair
Fharmonat's Biokygen Nail and Hair Capsules contain a wide variety of vitamins and minerals that play a key role in achieving firm nails and thick, shiny hair.
Each capsule contains dozens of key elements, including fish oil, B Vitamins, Vitamins E and C, iron, magnesium, zinc and more.
Many of these elements are powerful antioxidants that block harmful free radicals and prolong the life of cells, including nail and hair cells. The ingredients in Fharmonat's Biokygen Nail and Hair Capsules also ensure adequate nutrition for both nails and hair.
Warnings: It is advisable to consult a doctor or nutritionist whenever you have any questions about the consumption of this product. Nutritional values ??may vary slightly depending on the flavor chosen. Do not exceed the recommended daily dose. Pregnant or lactating women, children under the age of 18 and people with medical conditions should consult a health care professional before taking this or any other food supplement. Keep the packaging out of the reach of children. This food supplement should not be used as a substitute for a varied diet. This food supplement is not intended to diagnose, treat, cure or prevent any disease.
Ingredients: Fish oil - 460 mg, (EPA) - 82.8 mg, (DHA) - 55.2 mg, Vitamin C - 160 mg, Borage oil - 120 mg, (GLA) - 24 mg, L-cystine - 100 mg, Iron - 13.4 mg, Vitamin B3 - 32 mg, Zinc - 10 mg, Vitamin E - 12.06 mg, Vitamin B5 - 6 mg, Vitamin B12 - 5 ug, Vitamin B6 - 2.8 mg, Vitamin B2 - 2.8 mg, Vitamin B1 - 2.2 mg, Vitamin B9 - 400 ug, Biotin 100 ug
Recommended daily serving: Take 1 capsule at breakfast and 1 capsule at dinner.
Allergies: Contains soy ingredients.
Quantity: 48 Caps
Conservation: Cool and dry place in closed packaging (2°C max 22°C)
Expiration batch: Consult packaging
Please be advised that food products for sale in this online store may contain substances or products that cause allergies or intolerances. If you need it, ask for additional help or clarification from our customer service.
Complementary Information p>
p>
Take Daily : 2 Capsules p>

Serves per Package: 24 p>

QT. DAILY
% VRN*1
Fish Oil
460mg
*
(EPA)
82.8mg
*
(DHA)
55.2mg
*
Vitamin C
160mg
200%
Borage Oil
120mg
*
(GLA)
24mg
*
L-cystine
100mg
*
Iron
13.4mg
96.7%
Vitamin B3
32mg
200%
Zinc
10mg
100%
Vitamin E
12.6mg
100%
Vitamin B5
12mg
200%
Magnesium
6mg
1.8%
Vitamin B12
5ug
200%
Vitamin B6
2.8mg
200%
Vitamin B2
2.8mg
200%
Vitamin B1
2.2mg
200%
Vitamin B9
400ug
200%
Biotin
100ug
200%
(*) VRN not established p>
(*1) Nutrient reflow value p>
Net quantity: 35.89g p>
Write a Review
You must Login to review this product
Login
Delivery in 24h
Delivered the next business day if made before 4pm
Returns up to 30 days
We accept returns up to 30 days from the delivery date
24/7 Support
We are available to answer all your questions